Copperheads are on a roll heading into 2019
Posted on January 1, 2019 by Sunny South News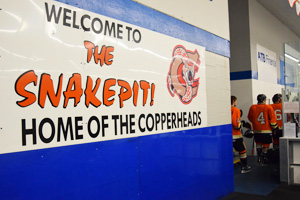 Sunny South file photo
Coaldale Copperheads
Heading into 2019, the Coaldale Copperheads carry over their 11-game winning streak following the holiday season into the New Year.
That record is gaining ground on the past record for the Copperheads winning streak of 12 in 2014.  Just before Christmas, the Snakes traveled to Carstairs to play the Mountain View Colts taking a 7-2 victory. All seven goals came from single players throughout the game. Copperheads had extreme horsepower at the beginning of the game, despite being short six players from their regular roster.
After the first dominating period, the Copperheads lead 5-0. Affiliate player Kole Fujita from Taber netted the first goal of the game. Singles followed in that period from Brandyn Howg, Jayden Bexte, Ty Abbott and Jason Creighton. Second period was slightly quieter pressure with two more to the scoreboard from Riese Nevil and Chase Williamson.
Colts had a stronger third period, skunking the Copperheads from scoring in the period and gained two themselves. A huge part of the eleventh game in a row win came from solid goaltending from Nolan Berner facing 30 shots.
Another affiliate player that joined the roster for the game was Dallas Bodnar who showed great potential dressed in orange and black.
Snakes are currently are sitting in first overall in the south division of the Heritage Junior Hockey League ( 23 W- 3 L -2 T in 28 games)
Copperheads first home game of 2019 will be Saturday, Jan. 5, at 8:30 p.m. against Cochrane Generals. ( 16 W -7 L -2 T in 25 games) That will be the sole game of the weekend as Sunday the 6th is the league All-Star Game held in Airdrie at 1 p.m.
Representing the Copperheads this year will be captain Levi Anderson and Turner Sharp on defense. Anderson with 14 goals and 26 assists currently is tie with the most points in a season by a Copperheads defenseman in the franchise history. Sharp is a key part of the Snakes defending end who has 19 assists under his belt.
Representing the team on the forward end is assistant captain, fourth year player, Jayden Smith from Vermillion. Smith is sitting third on the team for points with 20 goals and 17 assists.
Lastly, one of the strongest penalty killers on the team with great game sense is forward Jayden Bexte. With 13 goals and 20 assists Bexte is from Vauxhall. All four will be a perfect show casing of the team that is based in Coaldale, Alberta.