Copperheads streak ends
Posted on January 8, 2019 by Sunny South News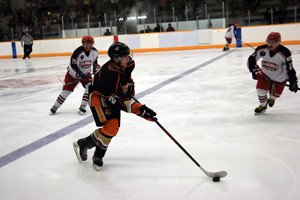 Photo by Nikki Jamieson
Coaldale Copperheads
Coaldale Copperheads' eleven game streak prior to the holiday break ended with the first game of 2019.
Cochrane Generals came to the Snake Pit this past Saturday night ready to play taking a 5-4 victory. Copperheads opened the scoring of the game with a goal from Brant Mack at 11:18.
Cochrane answered back with two more in the period one close to the buzzer at 19:13. Snakes fell further behind letting the score get to 4-1 mid way through the second period. One more goal for each team ended the second 5-2. Snakes second goal came from Ty Abbott. Copperheads gained ground coming short one goal to end the game. Remaining goals from Tyler Anderson and Jayden Smith just weren't enough to keep the winning streak going.
Sunday was a fun afternoon in Airdrie with the annual HJHL League AllStar Game.
South division Copperheads players Jayden Bexte, Jayden Smith, Turner Sharp and Levi Anderson represented the Snakes team. The south won 5-4 with a settling very long shoot out to end the All-Star affair. Smith had two assists and Anderson one assist to contribute out of the sixty minute south four goals.
This week is a busy one for the Copperheads with south division games as follows: Tuesday, Jan. 8 in Med Hat 8:15 p.m.; Friday, Jan. 11 at 8:15 in High River and then to the Snake Pit Sat on the 12th at 8:30 against Okotoks.