Picture Butte wins Atom B Provincials
Posted on March 27, 2019 by Sunny South News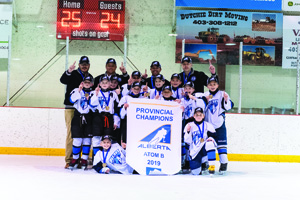 Sunny South Photo Submitted by Shawn Van Nistelrooy
By Nikki Jamieson
Sunny South News
The Picture Butte Blades Atom team took home the provincial championships.
Hosted March 14-17 at the North County Recreation Complex, not only did the Picture Butte Blades host the Atom B Provincial Championship, they also placed first.
Going into provincials, the team was fired up, after a disappointing loss the weekend before.
"The weekend before, we had lost out in the semis of the league," said Shawn Van Nistelrooy, Atom head coach, registrar for the Picture Butte Minor Hockey Association and head chair for the provincial committee.
"It was good for the kids to have that loss, because then it was fresh in their minds, so they were really excited and really pumped to get going in provincials, because the team believed that they had a good shot in winning it, and they believed in themselves. And they came out flying in their first game on Thursday (March 14), and they never looked back. They played their heart out and they did phenomenal, those kids."
The Blades faced off against teams from High County, High Prairie, Kitscoty, Eckville, Chestermere, Westlock and Castor for the provincial title. In addition to being the host team, the Blades had also placed first in Zone 5, an area that covers southern Alberta.
"We had a good season. We ended up second in our league, and at the beginning of the year, we kind of said to the kids, that if they buy in and believe, they'll go to provincials and they'll have a good shot of winning it, and we finally won that Zone 5 champion — we won it in two games straight there. The kids, I think, realized that they do have a good team, and they knew they were champs, and they were pumped. They couldn't wait to get to provincials."
The provincials gave the Blades a chance to play against teams they wouldn't otherwise play against. Picture Butte was the most southern team in the provincial tournament, with the most northern team, High Prairie, being located over 830 km away.
"Best thing about provincials is not only do you play against towns that have the same amount of registration numbers in that age group as we did," said Van Nistelrooy. "In league, we're playing against teams that, they got the third team out of Lethbridge there, or Medicine Hat. Now, all these teams, they only had 20-25 kids registered in Atom, so we're playing against a caliber of teams that can only pick from 27 or 26 less kids, and just like us, we had 24, and we picked the top kids and made our team, and we were able to see how they stacked up against towns their size across Alberta. And they stacked up well."
Round Robin play began on Thursday, March 14. The Blades faced off against the Kitscoty, winning 6-4. Chestermere won their game against Eckville 4-1; Westlock against High Country 3-1; and 3C's Castor tied with High Prairie 6-6.
"After that first game, it was probably the toughest one in our division, which was against a team we ended up meeting in the finals, Kitscoty, and they just worked from the start of that game. They came out and they battled hard and they got the (win), and the next game they just carried forward, and they got better as each game went on. And when we got to the semi finals, the final, you could tell the momentum was there, and they wanted it more then anything."
Friday, March 15 saw the Blades win their game against Chestermere 9-1. Kitscoty tied with Eckville 3-3; 3C's Castor against Westlock 9-4; and High Prairie against High Country 6-4.
Saturday, March 16, saw the Blades win against Eckville 8-1. Kitscoty won against Chestermere 9-4; 3C's Castor against High Country 7-1; and High Prairie against Westlock 13-4.
The championship games were held on Sunday, March 17. The Blades won their semi-final against High Prairie 7-3, while Kitscoty won theirs against 3C's Castor 12-3. In the final, the Blades took home gold against Kitscoty 6-4.
"To win it in your home town, in front of a massive crowd on Sunday, watching and cheering us on, for the coaching staff, we were ecstatic, and the kids were the same. They bolted out on the ice when the buzzer finally went, and you couldn't take the smile off their face for the whole night."
As they lost their last game in the semi finals for their regular league play, winning the provincials championship brings a satisfying end to the Atom Blades' 2018/19 season, which Van Nistelrooy called a "fairy tale story, from start to finish" for the players, and he predicts a great 2019/20 season for all of the Blades teams and Picture Butte Minor Hockey Association.
"There's a lot of younger kids there, watching this provincials, and they kind of got the experience on the sidelines; I think it will give them something to look forward to, know that they understand the whole hype behind provincials, and know these kids are going to come out striving, and this is going to be a big goal for a lot of these younger kids down the road," said Van Nistelrooy. "I think it will give our hockey program a boost, because there was a lot of kids that maybe didn't quite understand what hockey was, and I know there's a lot of parents that didn't realize how competitive and good of hockey it was at this age level. We should get a nice increase in numbers next year. Maybe some new kids who never thought about playing hockey and came out and watched, and we hope that we will come out and try it out, and see if it's something that they enjoy."
Van Nistelrooy thanked all the parents, sponsors and volunteers who helped make provincials possible, Lanny McDonald for being the keynote speaker at the banquet, the rink staff for doing a phenomenal job at keeping the ice ready and Chantal's Concessions for running the concessions and keeping people fed.
"The whole town got behind it here, and was really involved."