Copperheads open season with tryouts
Posted on September 10, 2019 by Sunny South News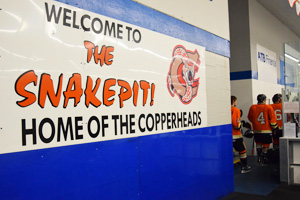 Sunny South file photo
Coaldale Copperheads
Coaldale Copperheads the last weekend opened up the season with a three day camp tryout.
Following Sunday ice slot first cuts were made from the coaching staff. The team will have approximately half that will be made up of previous roster players.
Fourth year returning Lethbridge player, Tyler Anderson was recently announced as the Snakes leading captain. Core returning players such as Brandyn Howg, Jayden Bexte, Ty Abbott, Linden Gouw and Jedd Horvath will be key strengths on the forefront.
Look for last years rookie Jason Creighton to be a threat to oppositional teams.
Defence the team will notice some changes, with the loss of Levi Anderson to Great Falls on a school scholarship. Fourth year Isiah Day Chief, the Snakes last year awarded Hardest Worker, plus returning player Tyler Strath will continue to be a key links on the defensive end.
The Snakes will be hosting a home exhibition game this coming Saturday, Sept. 14, at 7:30 p.m. against the Med Hat Cubs.
Everyone is welcome to attend to pre-view the team in action. Admission will not be charged for the event, but the organization will be collecting donations for the Coaldale Food Bank.
Regular League Home Opener is set to Saturday, Sept. 21, at 8:30 p.m. against Mountain View Colts.
Prior to puck drop ceremony, the Copperheads will be unveiling their south division banner amongst  the walls of the arena.
Starting the 21st, all Copperheads home games will witness a new expansion service being offered with the team just receiving their liquor licence. It will be a nice setting to take in a supper meal at the Ice Hut concession along with a cool beverage.
The Copperheads would like to thank all those that helped the team with the success of this new service being offered.