Copperheads collect four points during weekend play
Posted on October 29, 2019 by Sunny South News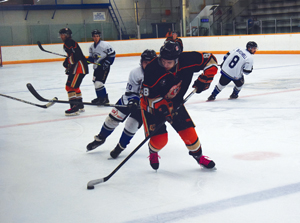 SSN FILE PHOTO
Coaldale Copperheads
Successful four points were collected on the weekend for the Coaldale Copperheads.
Friday night on the road the team won 5-0 against Lomond Lakers.
Ethan Klemen popped in the first two goals of the game with cousin Brandyn Howg scoring the third.
After two periods the Snakes led 4-0 with a goal from consistent key forward Isaac Benoit. Defence-man Isiah Day Chief was the sole scorer in the final period.
Meanwhile back at the Snake Pit for Saturday night the team hosted their 7th annual Cancer Bake Sale Fundraiser.
Many thanks is sent to all those who helped bake, sell and help fundraise a total of $759 profit for this great cause to the local Jack Ady Cancer Centre at LRH.
Stettler Lightning was the opponent for the Snakes 12 th regular season game.
There were a few Copperheads players with hot hands in the game taking a 10-3 victory over the Lighting (record to date: 8-3-1).
Jayden Bexte, scoring leader currently of the HJHL, had five assists out of the ten goals. Mason Sande scored twice with a trio of assists. Brandyn Howg found the net twice; Benoit with two goals and two assists.
Forward Ty Abbott had a single goal along with two assists. Single goals awarded to Kaden Shield, Ty Anderson, and James Halverson.
Next up for the Copperheads will be one of the most important games of the season.
Friday night they travel to Okotoks to face the 12-0 south division team.
End of September when the teams played at the Snake Pit Okotoks scored the winning goal the final couple minutes of the game to take a 5-4 win.
It should be worth the drive to the Murray Arena.
Saturday night (Nov. 2) it will be back at home with the Red Deer Vipers (4-5-0) visiting for 8:30 affair.