Successful weekend for the Copperheads
Posted on November 19, 2019 by Sunny South News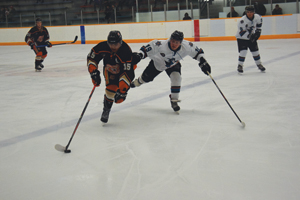 Sunny South Photo by Nikki Jamieson
Next home game for Copperheads goes Nov. 30
Coaldale Copperheads
The Copperheads took two home wins this weekend at the Snakepit.
Saturday night the Sylvan Lake Wranglers (formerly Blackfalds Wranglers) came to town for their only visit this season. The Copperheads easily handled the Wranglers, winning 6-2.
Brandyn Howg opened the scoring at the 48 second mark of the first , followed by another by Thomas Johnson. Defencemen Tyson Meier tallied in the second frame to make it 3-1. The third seen Ethan Klemen tally twice with Jayden Bexte rounding out the Copperheads scoring. Ethan Barrows stopped 26 of 28 while the Snakes put 38 toward the Wranglers netminder.
On a rare Sunday Game, the High River Flyers came to town gaining a two goal lead on the Snakes early in the game.
The Copperheads came storming back with a three goal effort in the second. Jason Creighton started the scoring with a power play marker, followed by Isaac Benoit and Howg.
Ethan Klemen made it 4-2 with the Flyers coming right back at them and scored within one late in the third. Ty Abbott sealed the deal with an open netter to seal the final score 5-3.
Broc Merkl turned away 21 shots while the Copperheads responded with 30 against High River.
The Copperheads are on a north division road swing next weekend, facing the Mounatain View Colts Saturday and Sunday in Rocky Mountain House.
The next home game will be Saturday, Nov. 30, at 8:30 p.m. versus the Lomond Lakers.