Copperheads road swing nets two league points
Posted on November 26, 2019 by Sunny South News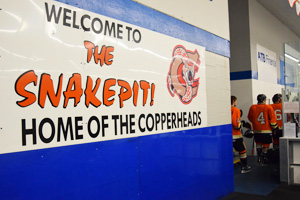 Sunny South file photo
Coaldale Copperheads
Coaldale Copperheads this past weekend had their first overnight road swing bringing home two out of four league points.
Saturday night in Didsbury the Snakes put shot the Colts 37-33 in the sixty minutes. Copperheads lead the scoring throughout the whole game taking a 4-2 victory. A hat trick came off the hot hands of Isaac Benoit plus a single from Brandyn Howg. Foremost netminder Ethan Barrows has a solid performance.
The team continued on northward for Sunday action at the Rocky Mountain House Rams arena.
It was not the outcome the Snake ventured for taking a 6-5 loss with the winning goal scored very late in the third. This brings the Copperheads record to 13-7-1 currently in third of the HJHL south division.
Sunday's game Broc Merkl was in net with double goals from Jason Creighton; singles from Ty Anderson, Jedd Horvath and Alex Saworski.
Next on the agenda is a road game Friday, Nov. 29, to Airdrie for an HJHL last season rematch. Saturday, Nov. 30, will close off November with a home game against the Lomond Lakers.
It's the Copperheads second annual theme of "Wear your favourite Jersey" game night. Puck drop is set for 8:30 p.m. at the Snake Pit, with warmups starting at 8 p.m.