Another split weekend for the Copperheads 
Posted on December 3, 2019 by Sunny South News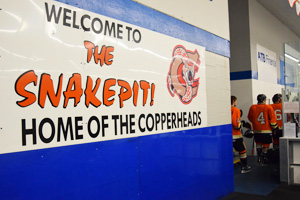 Sunny South file photo
Coaldale Copperheads
Coaldale Copperheads found themselves splitting game victories again this past weekend.
Friday night, while on the road in Airdrie the Snakes played catch up after allowing a power play first goal to the Thunder.
Nearing the end of the period a short handed goal and a regular strength goal ended the twenty minutes down by three. Difficult to close the gap with a slow start cost the 6-2 loss to the south division team.
Ethan Barrows faced 34 shots for the Copperheads in net. Deuce goals came from Isaac Benoit and Thomas Johnson.
Saturday, back on home ground, the Snakes welcomed the Lomond Lakers to the Snake Pit for the first time this season.
Scoring very early in the first period the Lakers set the tone for pressure the entire sixty minutes.
First and second periods closures had the score tied with the Snakes outshooting almost double the shots. Isaac Benoit had the single goal of the period with a nifty breakaway type goal.
It took till mid-way through the third period when Brandyn Howg scored his second of the game, to turn the game around. Following Howg's leadership, teammate Mason Sande decided to light it up with two continuous goals. Tyler Anderson scored an open net goal final seconds to take two points from the Lakers with a score of 6-3. Goaltenders Ethan Barrows was up against nineteen shots for the Snakes versus the visiting Theo Paskuski's forty eight.
December opens up with a home affair on Saturday, Dec. 7, at 8:30 p.m. against Strathmore. This game features the Copperheads assisting Lethbridge Family Services collecting for the Angel Tree Christmas Campaign. Unwrapped toys can be dropped off during the game to the Snake Pit lobby.
Copperheads remind fans of merchandise being sold during the two December home games for those last minute Christmas stocking ideas.