Copperheads play cliffhanger weekend
Posted on January 28, 2020 by Sunny South News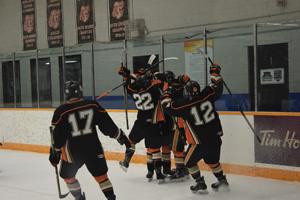 Sunny South Photo by Nikki Jamieson
Coaldale Copperheads
Coaldale Copperheads regular season is winding down with only one weekend remaining in the schedule.
This last weekend was a "Cliffhanger Type" of games with one goal differences.
Saturday night the squad met the top HJHL team a Okotoks Bisons (33-2-0) on home ice showcasing that playoff mood feeling.
Just like earlier in the season when the Bisons visited they came up short one goal. Definitely a team that's beatable just need to have a little puck luck come playoffs.
Copperheads spread their goals amongst five players: Tyler Anderson, James Halverson, Mason Sande, Thomas Johnson & Ty Abbott.
Sunday the team travelled north to Stettler for another thriller. It would be fair enough to say fans and even the coaching staff was left hanging till the bitter end.
With forty-four seconds left in the  third, trailing by one, rookie Mason Sande tied the game. It appeared on the clock they would be heading to overtime.
Veteran Jaden Bexte created a heartbreaker to the Lightning scoring the game winner with twenty-five seconds before the buzzer.
Earlier in the game goals came from Ty Anderson and a second goal of the game from Sande.
Copperheads currently are sitting with a record of 24-12-1 fighting for that playoff berth against south opponents Med Hat ( 23-9-2) and Cochrane ( 24-8-2) One more regular season game will be played in Med Hat Friday the 31s.
Final home game will be Saturday night against Strathmore ( 11-23-0) at 8:30 pm.
This final game will be Fan Appreciation night plus last opportunity to use game tickets.