Copperheads' season comes to a close
Posted on February 25, 2020 by Sunny South News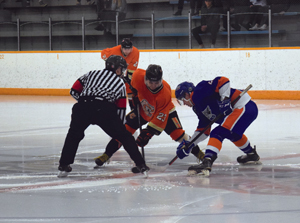 Sunny South photo by Nikki Jamieson
Coaldale Copperheads
Coaldale Copperheads season has come to a close following first round of playoffs.
The Snakes took the series to final series game five, but couldn't pull off the victory against the High River Flyers. The organization wishes to thanks all our supporters in all avenues for the 13th Copperheads season in Coaldale.
The team will be hosting future events such as year end awards banquet Saturday, March 28, at the Coaldale Community Centre.
Everyone is welcome to attend with purchase of $25 banquet ticket in advance (RSVP to team email).
Fall camp tryout for the next season team will commence the first Saturday following September long weekend.
Watch for summer ice slot shinny slots via their media feeds for opportunity to prepare for the 2020-21 team.