Kinsmen Club of Coaldale organize volunteer playground build in Eastview Park
Posted on September 1, 2020 by Sunny South News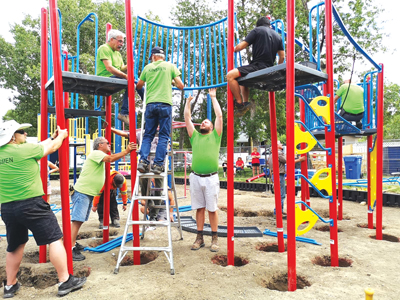 SSN PHOTO SUBMITTED
Within the heart of Coaldale, Eastview Park has blossomed into a community hotspot complete with tennis, pickleball, and basketball courts, a picnic shelter, outdoor workout equipment, and improved pathways and lighting. The project is being undertaken as a partnership between the Kinsmen Club of Coaldale and the Town of Coaldale as part of a mutual interest to invest in public amenities and enhance the well-being of their fellow community members.
The Kinsmen, a volunteer organization, have been instrumental in collecting donations and leveraging partnerships with local organizations to fund the entire project. Town council allocated $100,000 to support the Kinsmen in their endeavour.
"Working with an organization like the Kinsmen allows the town to get a greater return on investment for community-focused projects like Eastview Park," said Cameron Mills, Manager of Economic and Community Development at the Town of Coaldale. "The Kinsmen reflect the spirit of collaboration and camaraderie in Coaldale and we look forward to continuing to partner with them in future projects."
Most recently, the Kinsmen organized the expansion of the Eastview Park playground, building an additional $75,000 of equipment wrapping around the existing infrastructure and effectively tripling the size. The playground build was entirely volunteer-based, including the donation of equipment and manpower from Dennis' Dirtworx Ltd., DH Fencing, Strait Way Ltd., Inland Heidelberg CEMENT Group, and Waste Connections of Canada. Lunch and refreshments were provided by the Kinette Club of Coaldale.
"The Coaldale Kinsmen are excited to be part of another project in our community that families can come out to enjoy," said Jack Van Rijn, Kinsmen Club of Coaldale co-chairman. "Projects such as Eastview Park would never be possible if it were not for the community support by local businesses we received, by way of donations of labour, equipment and materials."
Approximately 30 volunteers showed up on July 24-25 to help the playground vision come to life. Park N Play Design supervised the build, providing the proper tools and guidance throughout the process and making sure the equipment was safe once assembled.
The playground is now open to the public and is a central attraction within Eastview Park.
To finalize the Eastview Park enhancement, other amenities will be added including additional park benches and soccer net replacements.