Copperheads set training camp dates
Posted on August 24, 2021 by Sunny South News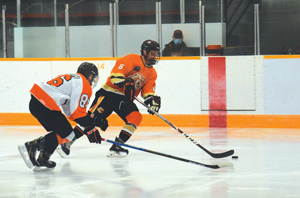 Sunny South Photo by Nikki Jamieson
By Cole Parkinson
Sunny South News
The Coaldale Copperheads have started to gear up for the upcoming 2021-22 season.
With September on the way, the team has set their tryout dates for Sept. 9 (7-9 p.m.), Sept. 11 (3-6 p.m.), and Sept. 12 (3-6 p.m.).
Players need to pre-register and can do so by emailing coaldalecopperheads@hotmail.com.
Pre-registration is due on Sept. 8 and there is a $150 tryout cost, with e-transfers to be sent to the same email.
Players also need to send in registration and medical forms, copies of their birth certificate, and their current health care card.
Registration forms can be found at coaldalecopperheads.com.
This year's Copperheads'coaching staff includes head coach/GM Doug Paisley, assistant coaches Josh Elliott and Brendan Harper, goalie coach Drew Owsley, and strength/conditioning coach Ryan Gukert.
The Copperheads kick off their regular season on Sept. 24 when they hit the road to High River, before making their way to Coaldale for their home opener on Sept. 25.
Puck drop is set for 8 p.m. The regular season wraps up on Feb. 6 with a home game against Cochrane.
The Copperheads are also still looking to fill one last volunteer position -50/50 ticket sales and merchandise table for all games.
If you're interested in volunteering with the team, email coaldalecopperheads@hotmail.com or text 403-393-3129.