Copperheads go 1-1 over weekend
Posted on October 19, 2021 by Sunny South News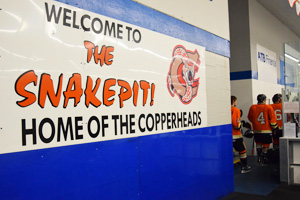 Sunny South file photo
By Cole Parkinson
Sunny South News
In another weekend of Heritage Junior B Hockey League action, the Coaldale Copperheads split the weekend with a win and a loss.
In the first game of the weekend, the Snakes hit the road to Cardston for a matchup against the Kainai Braves.
Putting 56 shots on net, the Copperheads skated to a 13-4 win to kickoff the weekend. Brogan Booth had a goal and assist, Kale Amundrud had two assists, Jason Creighton, Sean Burns, and Kole Fujita each had two goals and an assist, Dallas Bodnar and Mason Vande each had an assist, Tyson Meier had a goal, Braiden Burke had two goals, Ryden Rempel and Derrien Tonin had one goal and two assists, and Koen Lazar had one goal and two assists.
Brendan Stewart faced 20 shots in the win.
Coaldale went 1-5 on the powerplay and killed off three of four penalties.
In the second game of the weekend, the Medicine Hat Cubs travelled west for a Saturday night matchup at the Snakepit.
The scoring went back and forth all game, but the Cubs would head home with a 5-3 win under their belt.
Both, Krishan Stocker, and James Halvorson had the Copperhead goals.
Michael Lawson, Amundrud, Dylan Nevil and Tonin each had a single assist while Ethan Barrows faced 21 shots in the loss.
With eight games down in the season, the Copperheads had a 3-4-1 record, good for seven points and third in the Southern Division.
This weekend sees a three-pack for the Snakes as they have two road games and one home game.
On Friday night, Coaldale travels for another road game against Kainai. Puck drop is 7 p.m. at the ATB Centre in Lethbridge.
On Saturday night, Kainai travels to Coaldale for an 8:30 p.m. puck drop at the Snakepit.
In the final game of the weekend, the Copperheads hit the road to Okotoks for a 1:15 p.m. matinee matchup against the 8-1-1 Bisons.