Agriculture is still a big part of driving the economy; Schow
Posted on June 28, 2022 by Sunny South News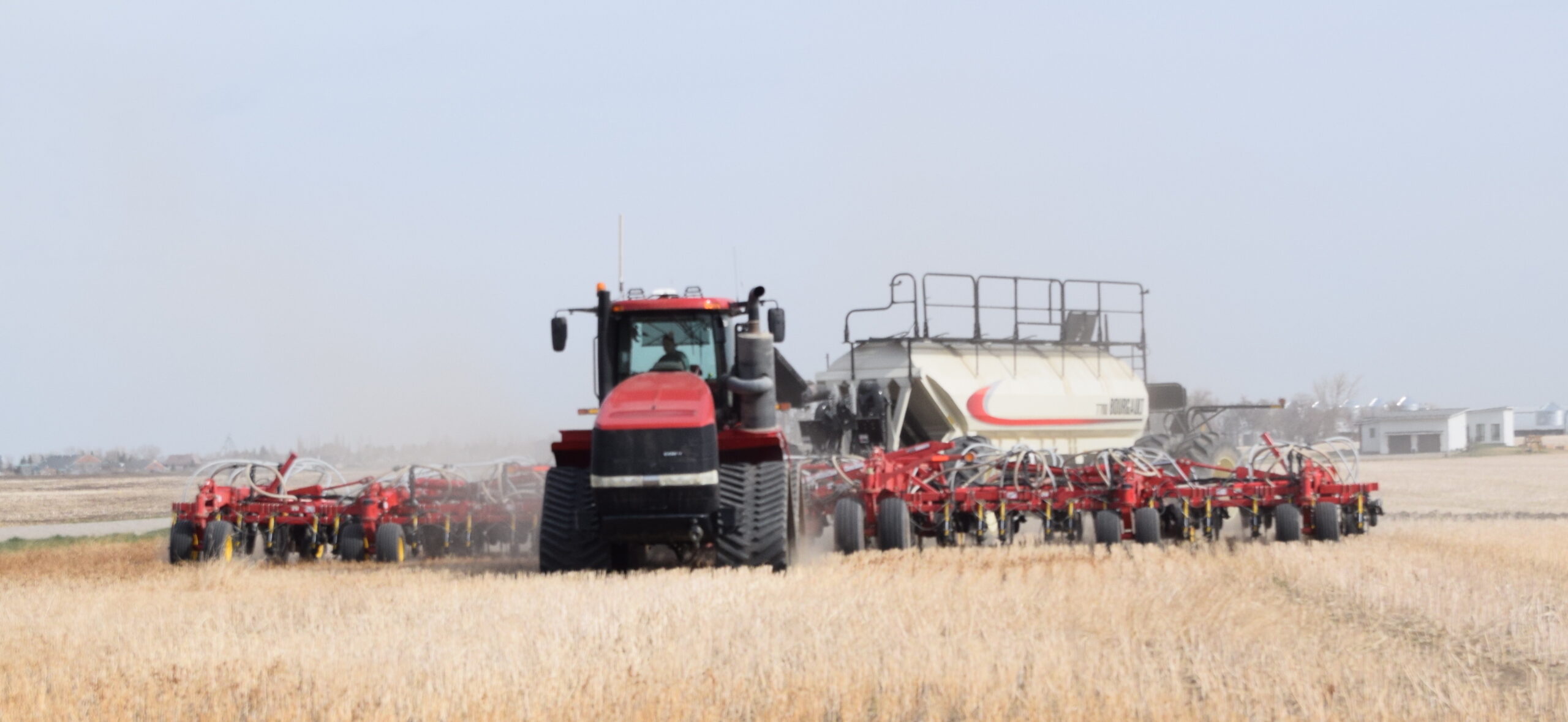 Canadian Foodgrains Bank growing project seeds a quarter section of land just outside of Coaldale.
By Cole Parkinson
Sunny South News
Before most of the rain fell earlier in June, things were looking extremely dry for farmers across the southern part of Alberta. While irrigation helped lots of them out, drylands farmers saw little to no moisture for most of the spring and that was a continuation of the 2021 growing season.
"There is consensus on a few issues, one of which is support for agriculture and, of course, until recently it was quite dry in this part of the woods. That has changed and hopefully, we get some more rain so we can see crops grow," explained Joseph Schow, Cardston-Siksika MLA. "Up in your neck of the woods it was really bad, and traditionally it is pretty bad up there, but I'm glad to see some more rain. We did have Cardston County declare a state of emergency for agriculture and the M.D. of Taber did the same."
Earlier in July, several other municipalities declared agricultural disasters including the M.D. of Willow Creek, Cypress County, and the County of Forty Mile. With Cardston-Siksika being such a vast riding that includes communities including Vauxhall, Picture Butte, Nobleford, Magrath, Cardston, and Arrowwood, Schow says the needs of one farmer in the southern portion of the riding could be vastly different from the uppermost constituents.
"There are different needs for different areas, so I consult with the counties and see where we can render some support. It really does vary from region to region, so consulting with them and seeing where we can help them. I'm always a huge advocate for the agriculture sector," he said.
Restrictions may have ended, but the effects of the pandemic are still being felt, and agriculture is still being looked at as one of the major drivers of the economy. Schow says Alberta has done a great job across the board in the post-COVID world of getting the economic wheel back turning.
"Alberta is doing a great job of bouncing back on its own because we've created an environment, even during COVID, where investment is flooding into the province. We are seeing our unemployment is the lowest it's been since 2015 and 69 per cent of the jobs created in the country in the month of May were right here in Alberta. Alberta is a symbol of hope, optimism, and economic prosperity for the rest of the country. It fell under the radar of COVID because all of the news, media, and attention given to that."
Things are hopefully going to continue to look up in the province, and Schow says agriculture will continue to be that rock the province relies on. With another investment made last year to irrigation in the province, Schow sees the ag industry continuing to grow and contribute to the economy in a big way.
"We have a very prosperous province here that is doing tremendous things. Agriculture is a huge part of it — it always is. Regardless of the circumstances, agriculture is just expected to deal with and overcome and persevere, and they have done well with that, especially with dry years like last year," he said. "The ag group is central to the recovery and that's one of the reasons why we invested just under a billion dollars in irrigation infrastructure. Recognizing that is in itself a true investment in an industry that will show returns. I believe every dollar we put in, we get about $3 back. There is real investment there and real opportunity in agriculture in southern Alberta, and between twinning Highway 3, the investment in irrigation, we are really putting the resources where they need to be. Our ag groups are doing their part by being great at what they do."
Overall, another $117.7 million to modernize irrigation infrastructure and increase water storage in southern Alberta was made by the province in November 2021. Participating irrigation districts are Bow River Irrigation District, Eastern Irrigation District, Leavitt Irrigation District, Lethbridge Northern Irrigation District, Raymond Irrigation District, Ross Creek Irrigation District, St. Mary River Irrigation District, Taber Irrigation District, United Irrigation District, and Western Irrigation District.