Youth Group unveils community pantry to reduce the stigma of food insecurity
Posted on June 28, 2022 by Sunny South News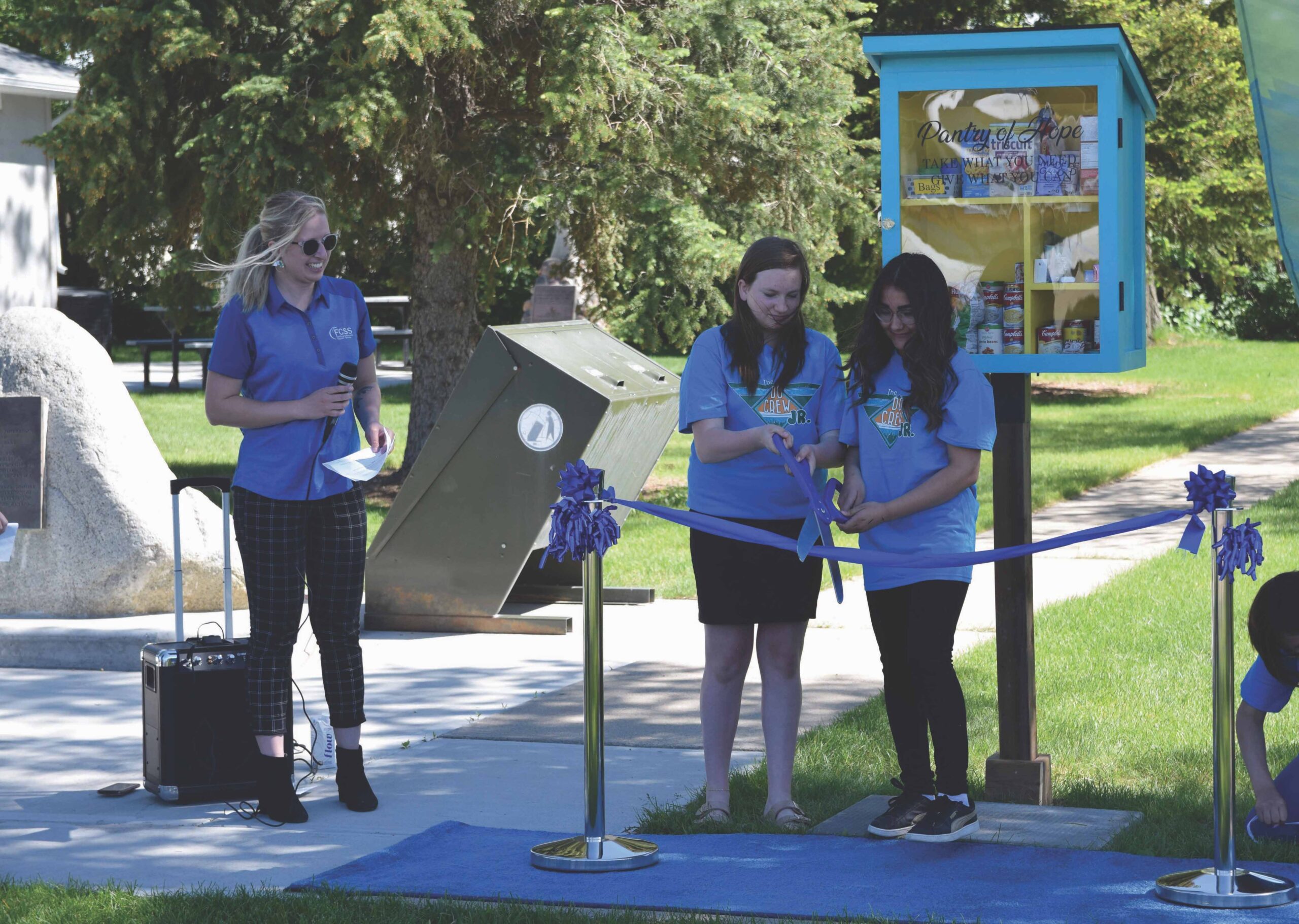 Help your neighbours: Youth Do! Crew Junior members proudly unveil the new free community pantry in Nobleford's Centennial Park to encourage residents to, "take what they need and leave what they can." Photo by Erika Mathieu.
By Erika Mathieu
Sunny South News
The small town of Nobleford has added one more resource to their community park to help build a community of reciprocity and support, and counter food insecurity in the town.
Youth DO! Crew junior members, previously put forward a proposal and grant application to construct a free community pantry in Nobleford called the "Pantry of Hope" to encourage residents to "take what they need, and leave what they can."
"It reduces the stigma of those experiencing food insecurity by dissolving the traditional client-service provider boundary that is central to the structure of other emergency food supports like food banks. Whether giving or taking everyone approaches the pantry the same way, mediating the shame that accompanies need," said Kaitlyn Weaver, outreach services supervisor at FCSS Barons-Eureka-Warner Weaver.
Charleen Davidson, executive director of the Community Foundation, greeted the crowd standing out front of the new free food pantry at Nobleford's Centennial Park. The project was funded as part of the Youth in Action Grants Program, through the Community Foundation.
Davidson explained the Foundation actually approved more funding for the project than the youth group requested.
"We wanted to really make sure that this had legs under it for success. We wanted to give it a bit of seed money," and said she was surprised and impressed to find out the Youth Do! Junior crew had already held a local food drive to ensure the pantry was well-stocked for its unveiling.
The pantry will remain open for people to peruse it as they need, and drop off items as well. With this kind of resource, "a lot of people come in and (access the pantry) at night," explained Weaver.
Similar projects have been popping up all around the province and have been inspired by the little library initiatives. Although Nobleford does not have a food bank, and the added layer of security was a consideration, Weaver said the pantry of hope, "is nice because if you forget something and you just like want to check if they have it you can. You don't have to be low income," to utilize it.
Coaldale council recently approved a pantry for the Town waiving the fees for the permit, which will be located at the FCSS Hub.