Coaldale Traffic Services helps locate vehicle fleeing crime scene
Posted on December 1, 2022 by Sunny South News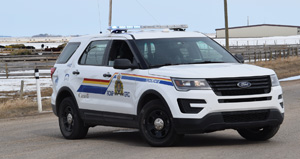 Photo by Nikki Jamieson
By Erika Mathieu
Sunny South News
Coaldale Traffic Services assisted Fort Macleod RCMP, Nanton RCMP, and the South District Police Dog Services on the evening of Nov. 21.
Following a complaint received by the Fort Macleod RCMP regarding an ongoing break-and-enter taking place in a local business, surrounding detachments and RCMP resources were utilized to locate a vehicle fleeing the crime scene.
Authorities quickly initiated a traffic stop at which point they fled from police. Shortly after, the vehicle was located by authorities leading to the occupants continuing to flee on foot. Several RCMP members worked with Police dog service canine, "Monty" to locate the two suspects, who were subsequently taken into police custody.
RCMP later learned the 2002 Dodge Ram which was used in the break and enter was actually reported stolen from Medicine Hat, and it was discovered the apprehended suspects were also involved in a number of related property crimes in southern Alberta.
As of Nov. 23, the investigation remained in progress, as police confirmed their belief that one or more other suspects were also involved. Police have arrested and charged David Archibald Hearn of Fort Macleod, Alberta, and Kristy Leanne Miller of Redcliff, Alberta. Both parties have been charged with Possession of property obtained by crime over $5,000, possession of property obtained by crime under $5,000, breaking and entering a business with intent, and flight from police.
RCMP confirmed the suspects were, "in possession of a large amount of stolen property," and were held for a Judicial Interim Release hearing and were released for court on Nov. 23, 2022, in Fort Macleod Provincial Court.
Members of the public were thanked by Fort Macleod RCMP for reporting the suspicious activity, and are encouraging those with additional information to reach out to the Fort Macleod RCMP at (403) 553-7220 or your local police. To report anonymously through Crime Stoppers, contact 1-800-222-8477 (TIPS), or head over to the website, at www.P3Tips.com or by using the "P3 Tips" app available through the Apple App or Google Play Store.