Community Builders Awards presented to Coaldale recipients
Posted on October 26, 2023 by Sunny South News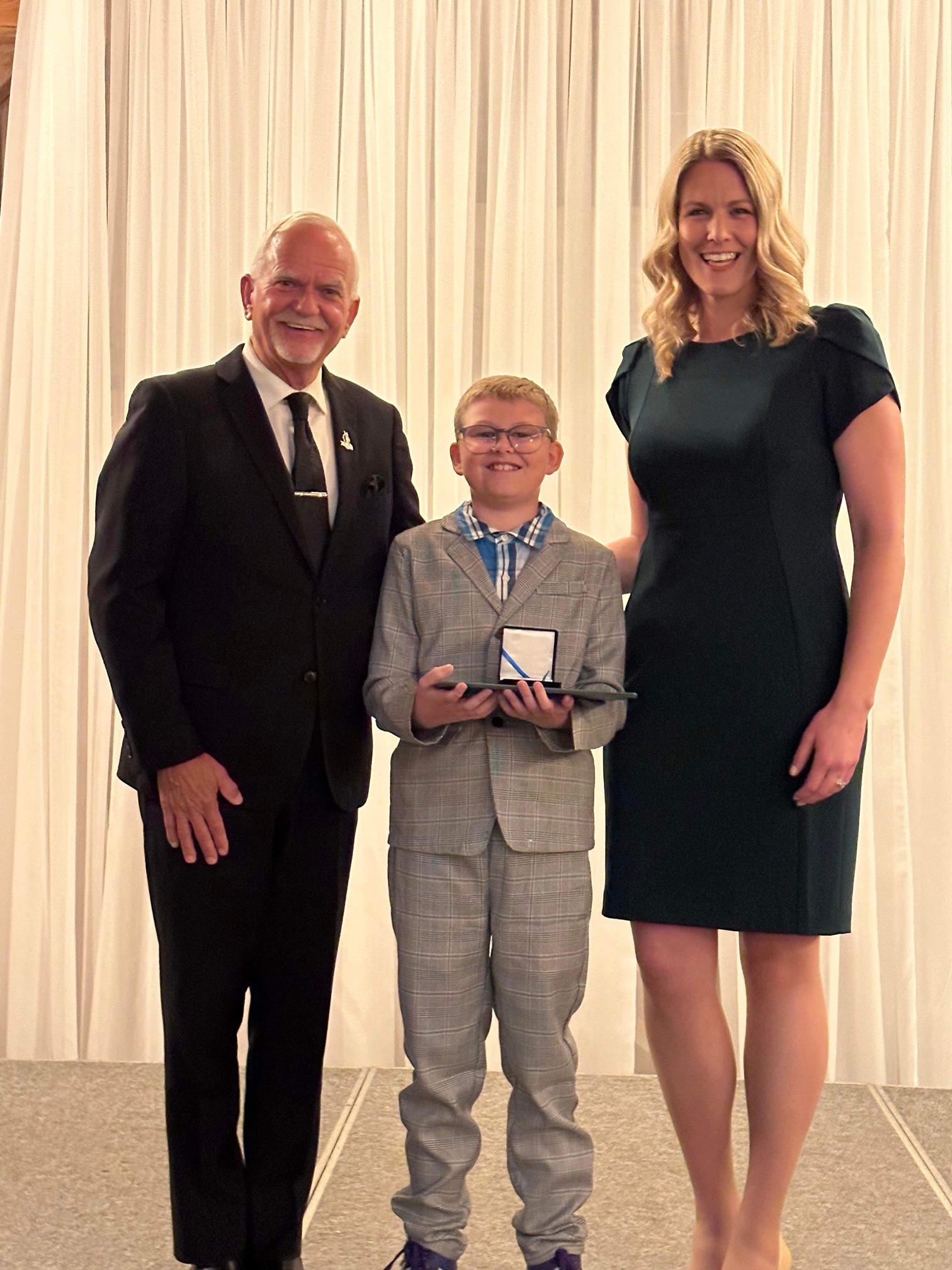 Submitted photo. Youth recognized for leadership: Mayor of Coaldale (left), and Lethbridge MP, Rachael Thomas (right) congratulated 12 year old Gavin Besaw during the Community Builders Awards ceremony on Oct. 12. Besaw was one of three youth to recieve the 2023 Youth Community Builders award.
By Erika Mathieu
Sunny South News
One youth from Coaldale has been awarded the Community Builders award for outstanding youth leadership.
The awards are presented to individuals making a difference in their communities in the following four categories: youth leader, community leader, not-for-profit leader, and business leader.
12-year-old Gavin Besaw was nominated for his leadership and contributions which help build more vibrant and prosperous communities.
Earlier this spring, Lethbridge MP Rachael Thomas opened nominations, inviting residents of the City of Lethbridge and Lethbridge County to nominate an individual making a positive, tangible difference in the community.
Selected by a panel of community members, Besaw was among four distinguished recipients of the 2023 Community Builders award.
Gavin's biography submitted for the awards ceremony noted, "Gavin has tremendous pride for the community of Coaldale and has volunteered at many events over the past three years. Gavin can always be counted on to help out, including Family Day Family Skate, Easter Egg Hunt, Christmas and Circus Day at the Gem of the West Museum to name but a few."
Gavin is also involved in bringing his vision to future recreation initiatives in Coaldale and is the youngest member of a skateboard working group, a committee exploring options for an all-wheel skateboard park in Coaldale. In addition to the Community Builders award, Gavin was also nominated for the Coaldale Chamber of Commerce Youth Citizen Award, and has been recognized for his passion for public service and volunteerism.
Along with Besaw, Keegan Brantner and Megh Patel were recipients of the Outstanding Youth Leadership award. Esther Awosoga, Stephen Roach, and Curtis Watson were named the recipients in the adult category. Breathe Easy Heating & Air Conditioning, Flexahopper Plastics, and Southland International Trucks took home awards in the business category. Non-profit recipients were Inclusion Lethbridge, Youth One, and Coaldale's own Alberta Birds of Prey Foundation.
Gavin said on receiving the award, "I never thought about getting awards for it. I just like to help people and always getting to do different things when volunteering. It's pretty cool dude!"
The ceremony was held on Oct. 12 at the Countryside Barn Event Venue in Lethbridge County.