2020 growing project harvest successful
Posted on September 15, 2020 by Sunny South News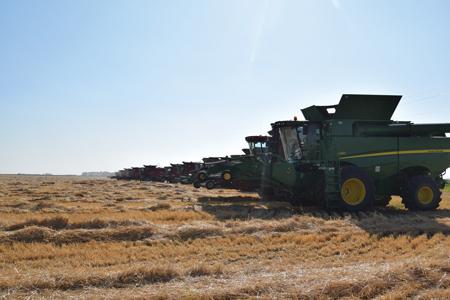 SSN PHOTO BY NIKKI JAMIESON
By Nikki Jamieson
Sunny South News
Record yields were achieved this year at the Coaldale-Lethbridge Growing Project's harvest.
The barley crop yielded 144 bushels/acre — well above any previous yields in the 14 year history of the project — and the field yielded 715 bales of hay, also above their previous record of 450 bales off a quarter section.
"To date, proceeds from the sale of grain and straw have raised just over $150,000 and donations via e-transfer and or check are very close to $40,000. We are humbled by the generosity of this community giving both of their time, resources as well as financially for this project," said Larry Penner, media contact for the growing project.
The harvest, which went Aug. 21, saw 15 volunteers come out with combines to help harvest the barley. The hay bales were sold to local cattle producers, with the barley sold to local livestock producers.
"In previous years an auction was held to sell both the barley and straw in advance of the harvest but this year a decision was made to ask local producers to purchase the crop based on a price established as a fair futures price at the end of July. If a producer wanted to they could add a donation to the grain purchased and many have done so."
Many different organizations have helped the growing project by providing the seed and chemicals needed to grow the crop. In addition to the combine drivers, a volunteer contingent of eight swather operators swathed the crop in advance of harvest, and 12 large trucks and drivers had volunteered to haul the grain to the producers that purchased it.
Eight large bale owner operators had volunteered to do the bales, which was done in one hour and 45 minutes, and a crew of volunteers stacked the straw, with all of it removed and delivered within a few days.
"We have been amazed at the generosity of the community," said Penner, adding it it been a different year due to the pandemic.
Because of the pandemic, they were unable to hold their annual harvest celebration BBQ, which is a key fundraiser for the project. Penner noted the BBQ had always raised "a very significant amount of money" by people coming out to the harvest and leaving a donation to help offset some of the costs and support the project. They did offer an opportunity for people to leave donations via an e-transfer link thru their bank accounts at coaldalelethfoodgrains@gmail.com, and Penner says they have been "amazed at the response."
Growing Projects support the Canadian Foodgrains Bank by growing and harvesting a crop, selling it on the Canadian market and donating the proceeds to the food grains bank. This money is then used to help combat world hunger. The federal government matches these funds 4:1.