Pauly Shore will always be comedy's buuu-ddd-y
Posted on August 19, 2015 by Sunny South News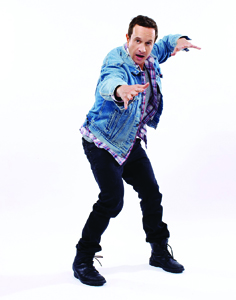 By Stan Ashbee
Sunny South News
During the 1990s, Pauly Shore was the new King of Comedy of the silly silver screen and the iconic live comedic stage.
Today, Shore is still the King of Stand-Up and continues to carve a successful niche as a writer, producer and director.
Film buffs will remember Shore as the 'weasel' Stoney in "Encino Man" — a movie with co-stars Sean Astin (from the "Lord of the Rings" universe) and Brandan Fraser. He was also Crawl in "Son In Law" and starred in the other funny-as-heck comic gems "Jury Duty," "In the Army Now," and "Bio-Dome." He was also an MTV VJ and Shore also appeared on the TV hits "21 Jump Street" and "Married With Children" — plus he voiced cartoons such as "A Goofy Movie," and "An Extremely Goofy Movie" and on top of that he created the mockumentary, "Pauly Shore Is Dead."
Shore is anything but dead and is returning to southern Alberta this week, as he performs two exclusive Alberta shows in Red Deer and in Calgary. "I'm pretty stoked to come back up there," said Shore.
Shore got an early exposure to comedy, as his mom Mitzi, owned the legendary Comedy Store in Los Angeles, CA. And his dad was famous comedian, Sammy Shore, who interestingly enough was chosen by Colonel Parker to open for Elvis from 1969-1972 and his dad even published a book entitled, "The Man Who Made Elvis Laugh."
As for Alberta, Shore noted he hasn't been here for a while. "I always like coming up there and most people really like me," said Shore, last week during a telephone interview with the Sunny South News.
"Shows have always been good and crowds have always been good," he added, in regards to previous Canadian dates.
Shore performs this Friday in Red Deer and Saturday in Calgary. Check out his website for more information and additional tour dates.
According to Shore, stand-up is who he is and was — prior to his stint in the movies and box office gold.
"I love stand-up. I'm still very stimulated by it and I'm very inspired by it. I can never not stop writing. I'm just always coming up with stuff and I'm always writing," said Shore.
Because of other comics like Louis C.K., Marc Maron and other comedians of today creating podcasts — "it has really branched out, outside of HBO, Showtime and Comedy Central," Shore said, in regards to how the live comedy scene has evolved.
"The Internet, I think, has really had a big resurgence and boom with stand-up. Back in the day, there weren't many channels to get your stuff out there. Now, there's a lot," he explained.
Speaking of podcasts, Shore produced a series of podcasts recently, which included other comic guests Andrew Dice Clay, Chris Rock and Harland Williams — to name a few.
But, Shore said, it was a lot of work to create the weekly shows. "I'm kind of taking a break from it. It's a lot of work." But, what Shore is doing is editing the episodes in which he filmed for a best of podcast special.
"I had a lot of really good people on it. But, usually podcasts never really resonate with people. What I wanted to do is cut to the best moments of these different episodes and put it out as a special," said Shore.
Right now, Shore encourages fans to check out his latest documentary he directed, "Pauly Shore Stands Alone." "I might do a part two of that," he added.
Shore is also in the process of putting together a documentary of his life. "Growing up at The Comedy Store, the Playboy Mansion and the MTV days." And he's working on an autobiography too.
"I'm kind of doing all that simultaneously. And, then a lot of stand-up," said Shore.
Life experiences are what fuels Shore's creative juices and stand-up material these days.
"Having a girlfriend, or moving or health or taking care of my parents — just different things I'm going through now, I talk about. There's some observational stuff but mostly it's personal," he said.
Shore's many hit films of the past are surely one of the reasons fans come out to his live shows.
"I think if you ask the audience why they're there — they'll probably say my older films. I'm pretty fortunate those movies held up and still hold up and are still out there and gaining new audiences," said Shore.
"People really like them. They're classics," Shore added.
Those movies were a lot of fun and according to the comedian, they don't make movies like that anymore.
"Mine were kind of just silly," said Shore, as opposed to today's often more serious-toned comedies.
Today, Shore's personal choice for movie watching has been mostly a lot of documentary films.
"I guess that's because I'm slowly putting my documentary together, so I'm kind of seeing different styles. There's so many different styles and ways to tell stories," said Shore.