Cheech and Chong light up southern Alberta
Posted on January 19, 2016 by Sunny South News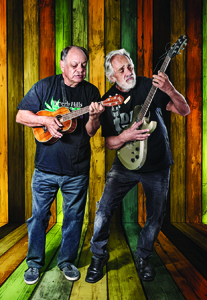 By Stan Ashbee
Kids know him from the hit movies "Cars," "Beverly Hills Chihuahua," "The Lion King," and "Spy Kids" but parents grew up with him as Cheech from the legendary stoner kings of comedy Cheech and Chong. Cheech and Chong return to southern Alberta with their "Up in Smoke" tour Jan. 29 at the Grey Eagle Event Centre in Calgary with iconic "Low Rider" musical guest War. The event promises to be one of the "smokiest" nights of 2016.
Cheech Marin, a cultural and counter-cultural icon is an actor, director, writer, musician, art collector, humanitarian — and one heck of a funny guy. And, the comedian knows a thing or two about southern Alberta winters, after spending some time living near Calgary.
"I came to Calgary, right from Hollywood and Vine, and I had never even seen snow," said Marin. "It's quite the wake up," he joked, adding it was the coldest winter in Alberta in 80 years when he arrived.
Canada, Marin added, has always been supportive of the dynamically-stoned duo. "We started there. We always consider ourselves at least half Canadian. Tommy is Canadian, he was born there. But I moved there, outside of Calgary for some years in Bragg Creek, Priddis and then Banff," he noted. Marin later moved to Vancouver, B.C. as a political refugee and soon met his soon to be partner in comedy crime Tommy Chong, who owned a topless club.
Fans, Marin explained, can expect a lot of comedy and a lot of music at a live Cheech and Chong show. "And, a lot of stuff we've never done on stage before, bits we've never done on stage before. They're a part of our catalogue but we've never done them. We're going to do those for the folks of Calgary," he said.
Today's fictional and not-so-fictional stoners on the big screen and abroad such as Seth Rogen and Jay and Silent Bob can credit Cheech and Chong for paving the way, with a longevity of the characters, which is almost mind-altering. "You know, we struck a chord with this kind of international stoner crowd and we were like the first ones to identify it and they're out there," Marin said. "And, we provided top-notch entertainment to them over the years," he joked. "And, they appreciated that."
"It's amazing. We have old fans, we have young fans too," he added.
Cheech and Chong's credits include nine albums between 1972 and 1985, eight feature films including the "highest" grossing comedy of 1978 "Up In Smoke," "Cheech and Chong's Next Movie," "Nice Dreams," and "Still Smoking." Marin went on to star in a number of films and TV shows including the film in which he wrote, directed and starred in "Born In East L.A.," "Tin Cup" with Kevin Costner, "Desperado," "From Dusk Till Dawn," "Once Upon A Time In Mexico" with Johnny Depp, "Machete," "Nash Bridges" with Don Johnson and many more. He's also had a good run in a plethora of hit animated and movies geared towards kids. "I love doing them because basically you don't really have to get dressed for it," he joked. "You can just show up."
Marin said he's been very lucky — working with Pixar and Disney, which has kept him busy for a number of years. "It's amazing how that audience grows up with you. That combined with the 'Spy Kids' franchise from Robert Rodriguez."
"It's almost like I have this new crop growing up," he joked.
One way Cheech and Chong continues to connect, adapt and network with loyal fans and with an entire new generation of fans is through social media. "We're totally into it now. We have like over, I think almost 11 million, or maybe more than 11 million Facebook followers," he said, plus the multi-million followers on individual social networking sites. "It's keeping our fans notified of what we're doing and making everybody aware of all kinds of aspects."
Marin said he was late to the social media party because he used to view it as having another job.
"But I do now. I'm connected with the fans. It's pretty cool."
After 25 years apart, in 2008 Cheech and Chong reunited for a comedy tour and today's live comedy scene is booming, thanks to the growing popularity of casinos.
"It's way bigger than it ever was. And those basically cater to an over- 21 crowd and that's our fan base. They love us. But they're all over — there's more casinos now," he said, which is great news for comedy acts and their fans.
Right now, Marin said, he's in the midst of writing his memoirs.
"I'm really enjoying that. It's kind of reliving all the past moments and, oh yeah that happened, I'm going to write about that," he said. "I'm little over a half way through it."
Aside from touring with Cheech and Chong, Marin has a few things brewing in the pot to keep him busy including reprising his role in "Cars 3," and he'd like to do another TV show.
"I try to keep busy. I'm a Chicano, I have to have three jobs," he joked. Marin wanted to tell southern Alberta fans he will see them in the frozen north at the end of January.
"Don't tell Sergeant Preston I'm coming," he joked.