Spock's Vulcan death grip on pop culture
Posted on July 5, 2016 by Sunny South News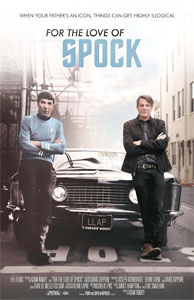 By Stan Ashbee
Sunny South News
Leonard Nimoy's immortal portrayal of the beloved sci-fi "Star Trek" character Mr. Spock is indeed worth documenting in a film, so is the legendary character's pop culture legacy, due to not only die-hard "trekkies" but simply "For the Love of Spock" — the title of Adam Nimoy's latest documentary about his father. The film will be released this fall but Adam will be visiting Vulcan this weekend for "Vul-Con" to unveil a plaque tribute honouring his late father, while also spending Saturday in the southern Alberta community for a Q & A session with fans in support of his upcoming film, which is almost autobiographical in nature too. Of course, Vulcan has embraced the love of the "Star Trek" universe with a "Star Trek"-themed tourist centre complete with the iconic Spock ears, which fans can take home and proudly don. "Star Trek" also celebrates 50 years of the U.S.S. Enterprise and beyond in 2016.
In the hit TV series "The Big Bang Theory," Adam Nimoy appeared as himself in an episode entitled, "The Spock Resonance," where he talked to the fictional characters on the show about their love of Spock. This wasn't the first time Spock was featured on the show — an action figure of Spock, voiced by the late great Leonard Nimoy, talked to one of the main characters. And, on another episode, the cast played a game of rock, paper, scissors, lizard, Spock in an episode.
Of course the fictional game is no comparison to Spock's famous Vulcan death grip or his Vulcan hand gesture salute. Spock's global appeal has been and always will be an intergalactic force to be reckoned with. From "Star Trek" conventions to entertainment expos to the upcoming documentary film — Spock will forever, "Live long and prosper." Nimoy said the film will be released Sept. 9, the day after the 50th Anniversary of the premiere of "Star Trek" the original series.
"As documentaries go, we've been moving pretty quickly. We just had our Kickstarter campaign — we completed that for the funding last July. We are now putting the final touches on the sound mix for the commercial release. We've already had a screening of the film at the Tribeca Film Festival in April," he noted, adding there's been a lot of support for the film and a lot of contributors with interviews, footage and other elements added to the movie. Final sound mixing of the film took place at Skywalker Ranch at Skywalker Sound, where they produce the "Star Wars" movies. Talk about worlds colliding. "There's a lot in there. We have a very good team of filmmakers making this movie and it's just been the sole source of our focus for the past year or year and a half. I think it's going to be a really good film," he said modestly. The film, Nimoy said, covers a lot of territory and he believes he and his team accomplished what they set out to do, which primarily at first was working on the film with his dad back in 2014. "The whole concept was to do a fairly investigative thorough documentary about this character Mr. Spock and how he came about, how he has evolved over time and why he continues to resonate with so many people for 50 years. That was really going to be the focus but then when my dad passed away it became clear we wanted to focus on the life of Leonard Nimoy, as well. We expanded the film considerably to include his life. While we were getting into that aspect of what the film was going to be about it became more and more clear my own story was very much bound up in this whole trajectory of Spock and Leonard, so we added some of my own personal relationship with the two in the film. The film is really a balance of those three elements," Nimoy said.
This weekend in Vulcan, there will be a lot of other people from "Star Trek"-related shows and movies, appearing with Nimoy at the southern Alberta event. "It's all kind of to celebrate the anniversary, to celebrate dad and to celebrate Vulcan, Canada," he said, adding this will be his first visit to the community. "I've never been before and I'm very much looking forward to being there. It's sort of like this mecca of Trek-dom," he added.
After the film is released, Nimoy noted, he would like to get back to teaching at the New York Film Academy, where he has been an instructor for eight years. And, according to the director, there's plenty of activities over the next few months to promote the film and to celebrate all things "Star Trek." Nimoy's directing credits include "The Gilmore Girls," "NYPD Blue" and "Ally McBeal."
Being on "The Big Bang Theory" was a great experience, Nimoy explained, and the experience was all part of the pop culture phenomenon that is Spock. "I'm a fan of the show and there's a lot of 'Star Trek' lore interwoven into the show. My dad appeared in a voiceover as a Spock doll on the show. It was just a lot of fun and we used segments of the show in my film — just to show another aspect of this resonance, the reason Spock continues to entertain and inspire people 50 years later," he said.
Nimoy said so many different people in popular culture, both real and fictional, embrace and reference Spock, Leonard and 'Star Trek' of all incarnations. According to Nimoy, "The Big Bang Theory" is a big example of what's happening in current pop culture. "We wanted to show a little slice of that in my documentary to get some understanding of why Spock still pervades our consciousness," Nimoy said.