Let's twist again
Posted on September 13, 2016 by Sunny South News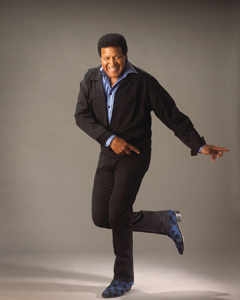 By Stan Ashbee
Sunny South News
It's not every day a southern Alberta entertainment freelance writer gets the opportunity to chat with one of the forefathers of rock and roll.
Chubby Checker is one of the greats and his songs are forever etched in the Great American Songbook. Of course, Checker's ultimate hits and dance floor phenomena include "The Twist" and "Let's Twist Again." Checker will be appearing live in Calgary at the Deerfoot Inn and Casino this Saturday. On Friday, he is in Enoch, AB with fellow forefather of rock and roll Peter Noone from Herman's Hermits.
In the United States, Sept. 21 marks National Twist Day. The day celebrates 50 years Chubby Checker has been doing the Twist. Also on Sept. 21, The Twist Challenge will be launched in the U.S. and it will raise funds and awareness to twist away childhood cancer. It is similar to the Ice Bucket Challenge and it is hoped other countries including Canada will follow suit with the initiative.
Checker changed the dance floor forever in 1960, as he released "The Twist." Also that year, Checker appeared on "American Bandstand." He was also the first artist to receive a Grammy Award for the Best Rock and Roll Recording for "Let's Twist Again." Checker also created the dance crazes The Pony, The Fly, The Shake and The Hucklebuck.
"The Twist" has also been rated as the Number One record of all time.
The first thing Checker asked during our interview was, "Is it cold?" — when he called the Sunny South News last Tuesday morning. He said he was looking forward to seeing the leaves changing colour, as they currently are in southern Alberta.
Checker said he performs two or three times a year in Canada.
"We're just going to come and set it on fire, blow it up and go home," he joked, about his upcoming Alberta shows.
"We love to play."
"We're still able to be doing what we're doing, so that is good," he said, in regards to still touring and selling out shows.
Even though Checker doesn't keep track of the amount of shows he performs these days — he said he does a whole lot of them.
"That's what we do. We play and every week of the year, we're somewhere. Four or five days a month or once every week or once every other week, we're somewhere. It's exciting for us," Checker noted.
Checker has a unique perspective in regards to his shows.
"The show I did, I don't remember that one anymore. It's the one I'm going to do. What's the most important show you're going to do? The next one. That's the one. The one in front of me because we don't know when we play. The music comes on and we do it. We don't know — it might be the last time. Every time we play, to me, it's new. It's the first show I've ever done, when I play and when I'm finished with the show, I remember it, but I can't think about it too much because I'm looking at the one in front of me," he explained.
His next shows in Canada are the ones in front of the legendary performer. "That's the most important thing that's going to happen."
Checker said the last show was great and he had a very good time but he can't go back there anymore — it's finished.
"They probably have films of it but that's gone, it won't come back again. I'm looking forward," and he said he's looking forward to visiting Canada once again.
I asked Checker if he comes with a full band to a show.
"What do you think? I don't fool around. I bring all my tools with me. How are we going to fight the war, if we don't have any guns? I told you we are coming to burn it down. And after we burn it, we're just going to turn around and go home," he joked.
Does Checker consider himself one of the forefathers of rock and roll?
"I don't think any of that because when I talk about all the fantastic things we do and what's still going on as a result of us being here, it's just too much for people to comprehend. I tell people the dance floor, we did that, and they look at me like I'm crazy. The way we dance on the dance floor today, everybody's music, it's Chubby Checker. It's either The Twist, The Pony, The Fly — they mix it all up on the stage. When you're looking at the girl and the girl's looking at you and you're doing something to somebody's music, Chubby did that before anyone did it. Chubby brought it to the dance floor," said Checker.
Checker added he just goes out and does his next show and if a fan checks out Chubby Checker online and finds out about Checker's contributions to the history of rock and roll, Checker said, the person usually thinks, "Oh-my-god, this guy did all that?"
"Since God put Adam in the Garden of Eden, I had the first number one song of all time. It's hard for people to believe that — the number one song of all time," Checker said.