Red Green is not old, he's just ripe
Posted on September 27, 2016 by Sunny South News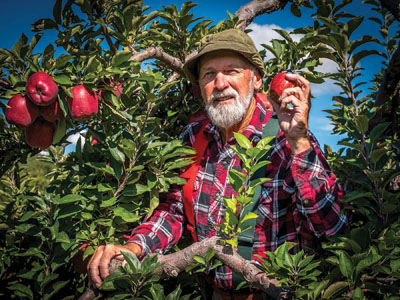 By Stan Ashbee
Steve Smith from the Red Green fiasco, as he so eloquently put it, said he is all geared up for visiting southern Alberta once again since he's had a chance to get back into character with 26 dates this past spring in the U.S. with the same show.
"I'm good to go," he said.
Red Green's "I'm not old, I'm ripe" tour hits the Yates Memorial Theatre stage this Thursday night.
"This is my third one-man show tour. When you're trying to make people laugh, you can't do your greatest hits, so you've always got to be fresh. This is a brand new show. I say the big difference about this one is — it's Red being autobiographical," Smith noted, in regards to the duct tape wonder and handyman extraordinare.
Red, on this tour, talks about how his family settled in the area, his birth and growing up in Red's fictional home town of Possum Lake.
"And, meeting girls, getting married, getting a job and life — up to the present," he said, adding with a few side trips along the way including projects and inventions.
The Canadian and abroad phenomenon of Red Green defies explanation, Smith said.
"I stopped doing the show. After the 13th season, I thought I could do two more seasons and then I'd be done. I presented that to the CBC, they were great, they actually gave me a two-year contract and I gave everybody two years notice and then when it ended I said that's it, I'm done. My Red Green hat went to the University of Toronto Library Archives and I was just going to be an old guy," he joked.
Probably because of You Tube and other social media platforms, Smith explained, a new audience was born for the TV hit "The Red Green Show."
"There was some energy happening and I'm getting requests to do stuff and write books and perform. I thought, OK. I've always enjoyed the live performing, even the first tour. The travelling is kind of a grind but being in a room with just people and no cameras and no hidden agenda — you could be sitting around a campfire a thousand years ago, having the same experience. It's a neat thing, I think it's great," Smith said.
Canada, Smith said, has been supportive throughout Red Green's Canadian duct tape rampage.
"This show started on one station in Canada. It was the reaction of the Canadians that led to everything. This is one of those odd ones, that didn't go to America and become a hit and then get put back into Canada. This is one Canadians responded to first," said Smith.
"It's always hard to be the first one to take your clothes off at a party," he joked.
Smith said he is currently working on a book with his son — a Red Green book.
"The would of, could of, should of book of Canadian inventions. It's got the real Canadian inventions in it, probably 50 of them and then our inventions and then our version of what those Canadian inventions should have been used for. It's reality-based," Smith said. But, he added, it doesn't stay that way for long.
Smith said the release of the new book should be October 2018.
Touring of the current show will continue throughout the spring in various locales and then the current show goes away, according to Smith. "Then, it's a matter of, do I have anything more to say?"
Because, Smith said, at this point in his life he'd rather have a creative-based project, rather than just rehashing the same old schtick — he would want to say something new and fresh.
"That's the way I'm going to go from now on. When I finish this tour, I'm just going to lie down and see if I think of anything and if I do, then I'll give it another go," Smith admitted.