Canadians already know what the joke is — Lewis Black returns to Canada
Posted on July 31, 2017 by Sunny South News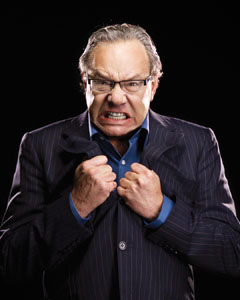 Lewis Black is back. On Sept. 6, Black returns to Canada with a stop in Calgary at the Jack Singer Concert Hall at Arts Commons with comedic cohort Kathleen Madigan for "The 49th Parallel Tour."
He's a Grammy Award-winning stand-up comedian, actor, author and is the voice behind "Anger" in the Pixar award-winning animated film "Inside Out."
Black's live performances, according to his bio, provide cathartic release of anger and disillusionment for audiences across the globe. He's a ticked off optimist, rather than a mean-spirited curmudgeon.
"We're rolling through Canada together. In search of homesteading opportunities," he joked, about his cross-country trek with Madigan, who Black has worked with for years, which has included fundraisers for the Cystic Fibrosis Foundation.
Black's "Back in Black" three-minute segment on "The Daily Show" (both the John Stewart era, and now with Trevor Noah) led to a plethora of comedy specials and he won Best Male Stand-Up at the American Comedy Awards in 2001.
Black has released eight comedy albums and has published three bestselling books including "I'm Dreaming of a Black Christmas." He's also been touted as the "King of the Rant," as he uses his trademark style of comedic yelling. He's the U.S.'s answer to Canada's very own Rick Mercer, Canada's "unofficial opposition."
Black has penned more than 40 plays, many of which have been produced around the United States and he has appeared in movies, including co-starring with the late-great Robin Williams in "Man of the Year."
From the very beginning of touring in Canada, Black has always thought of Canada as a great place to work.
"Part of that is because you've got your own problems. For me, you're not Republican or Democrats. You already know what the joke is. You get it," he noted, adding he doesn't have to explain it.
"You already know, you've already been laughing at it. All I do is tweak it a little," he said.
According to Black, the live comedy scene is also pretty solid these days.
"There's all sorts of people touring now. There's just a bunch of folks out there who are working in theatres now and touring and I think that's great. We've kind of found a place finally," he joked.
Black said it used to be George Carlin would show up on the live comedy scene, which Black added, was phenomenal. "But, there weren't a whole lot of people outside of George really doing that kind of touring. Now, there are a lot more."
Black considers himself lucky to be an established comic with access to a wide-variety of audiences. "But, I still find people who see me in a movie or hear my voice in 'Inside Out' and then go, 'oh, wow, he's a comic.'"
"But, that discovery still exists. There does seem to be all sorts of ways to get comedy out there. I think it's kind of remarkable and it's really kind of exploded into a variety of forms. There's people discovered on Twitter and there are people discovered on YouTube. It's kind of created a short-form onto itself. Then you have folks like me, who continue to slog around in long-form," he joked. "I don't know what I was thinking."
These days, Black continues his rant-a-rrific stint on "The Daily Show" and after each live show he presents a Q & A-type format entitled "The Rant is Due," which he will be doing in Canada.
"When my basic stage show is over, I return and we basically go worldwide. Two cameras and a satellite and we connect with the world. The audience sends in questions beforehand and I get them on this iPad and also over time it's evolved into folks writing rants. I've got a number of them from Canadians I've read," he noted.
Black said "The Rant is Due" is edited and made into five-minute podcasts of rants and/or questions he's answered for Audible, which is part of Amazon and is coming to Canada.
"They've taken the 'best of' and just used the audio. There's audio books, there's all sorts of stuff. That is going to make its debut in Canada when I'm up there. Kathleen and I will probably be doing some stuff on the bus, as we're going across country. We're probably going to send out some stuff," he said.
"That's really what I'm kind of focused on. Since I don't have my own TV show, I'm going to trundle through Canada with my pal Kathleen and we'll make a show of our own," he joked.
Lewis Black and Kathleen Madigan live. Show starts at 8 p.m. Tickets available online at ticketmaster.ca.