Ricotta lemon Zucchini tart
Posted on April 25, 2023 by Sunny South News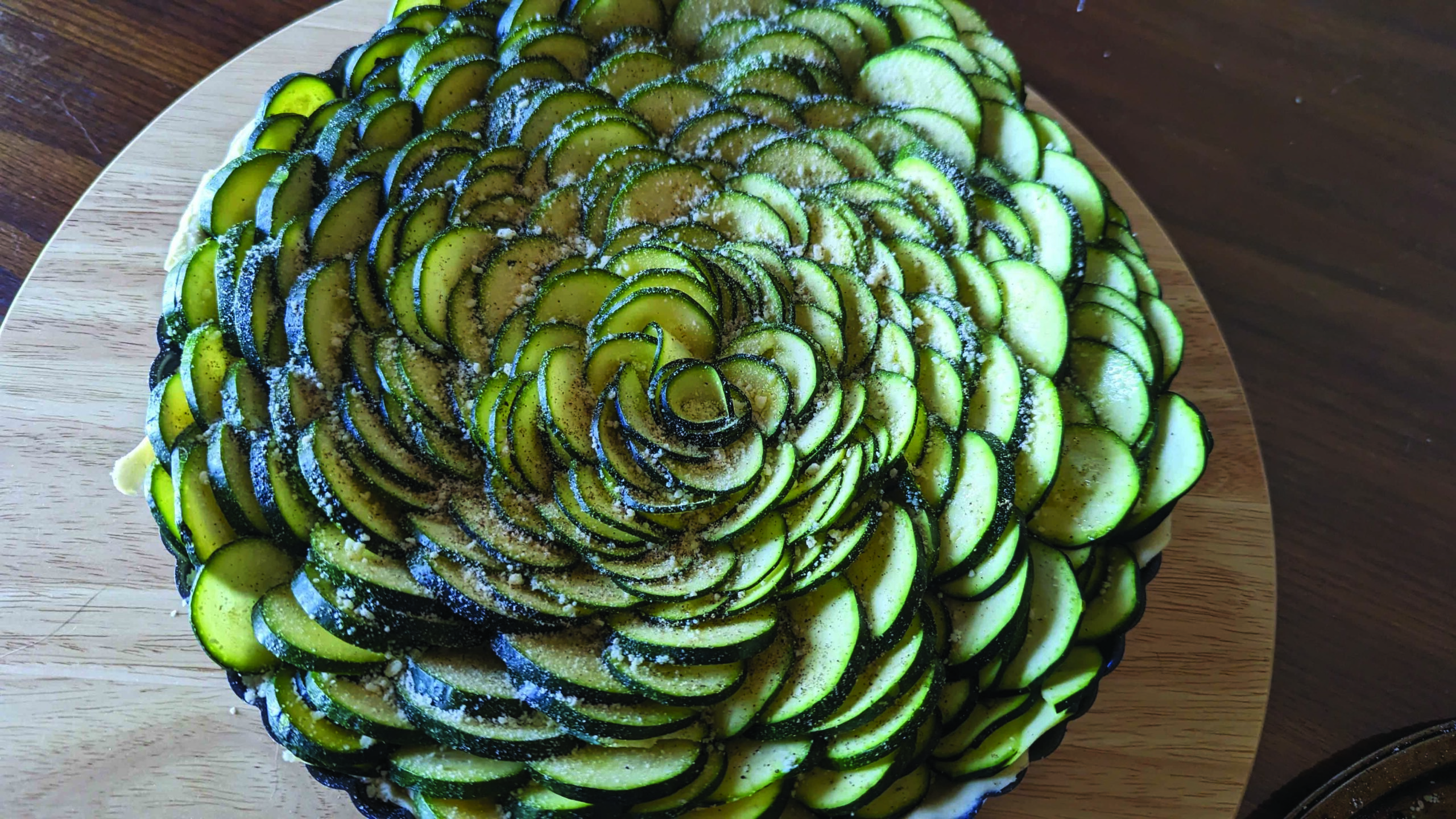 Zucchini ricotta tart: A quick and easy way to put this high-yielding plant to use.
By Erika Mathieu
Sunny South News
Spring has sprung, officially. Aside from a few possible frosty evenings, we are finally on the upswing to longer, brighter days, and fresh seasonal produce. Although squash are typically associated with end of summer harvest, their fast production time of about two months makes them a valuable homegrown produce staple in the summer months. In my opinion, zucchini is the MVP of veggies. It's suitable for beginners and even black thumbs, fast growing, container/small space-friendly, and versatile.
This recipe is also perfect for a crowd and can be served alongside a protein or salad for an easy dinner, or on its own as a light lunch.
Although there are not any real rules for how to prepare your tart, I do prefer to use a low-profile tart pan. You could also use mini tart pans or even a cupcake pan for individual servings which can be frozen and defrosted and heated in an oven or air fryer.
This recipe uses 8-10 small zucchinis (for a 10 inch tart pan) but you can definitely halve the recipe for a smaller dish if preferred.
I do have a fantastic from-scratch puff pastry recipe which I will share in the coming weeks, however store-bought works fine and makes this such an easy recipe. There is no need to par-bake your puff pastry, simply roll one sheet out and press into the tart pan working quickly as to not let the butter in the pastry get warm. Refrigerate the tart pan and puff pastry crust and preheat your oven to 375 degrees Celsius.
Prepare the filling by combining 150 grams of brick-style cream cheese, 150 grams of ricotta, one large whole egg, 1 tablespoon cracked black pepper, 1 tsp each of garlic and onion powder, a pinch of ground sage and 1 tablespoon of salt. Add the zest from one lemon plus 1 tablespoon of lemon juice. Hand mix using a whisk, or mixer until smooth and combined and prepare your zucchini. Using a mandolin, slice the zucchinis into thin rounds (between 1/8 and 1/16 inches thick).
Pour and smooth filling into the tart pan prepared with puff pastry and beginning in the centre of the circle, work your way outward creating a rose design with the zucchini rounds until the pan is full. There should be little rounds between the petals once the dish is fully assembled. Drizzle a glug of olive oil across the top of the "flower" and sprinkle with grated parmesan, and more cracked black pepper. Bake for 45 minutes until golden and broil for 5 minutes on 450 degrees to add colour to the top. Let cool for at least an hour before slicing.