Easy rough puff pastry
Posted on May 16, 2023 by Sunny South News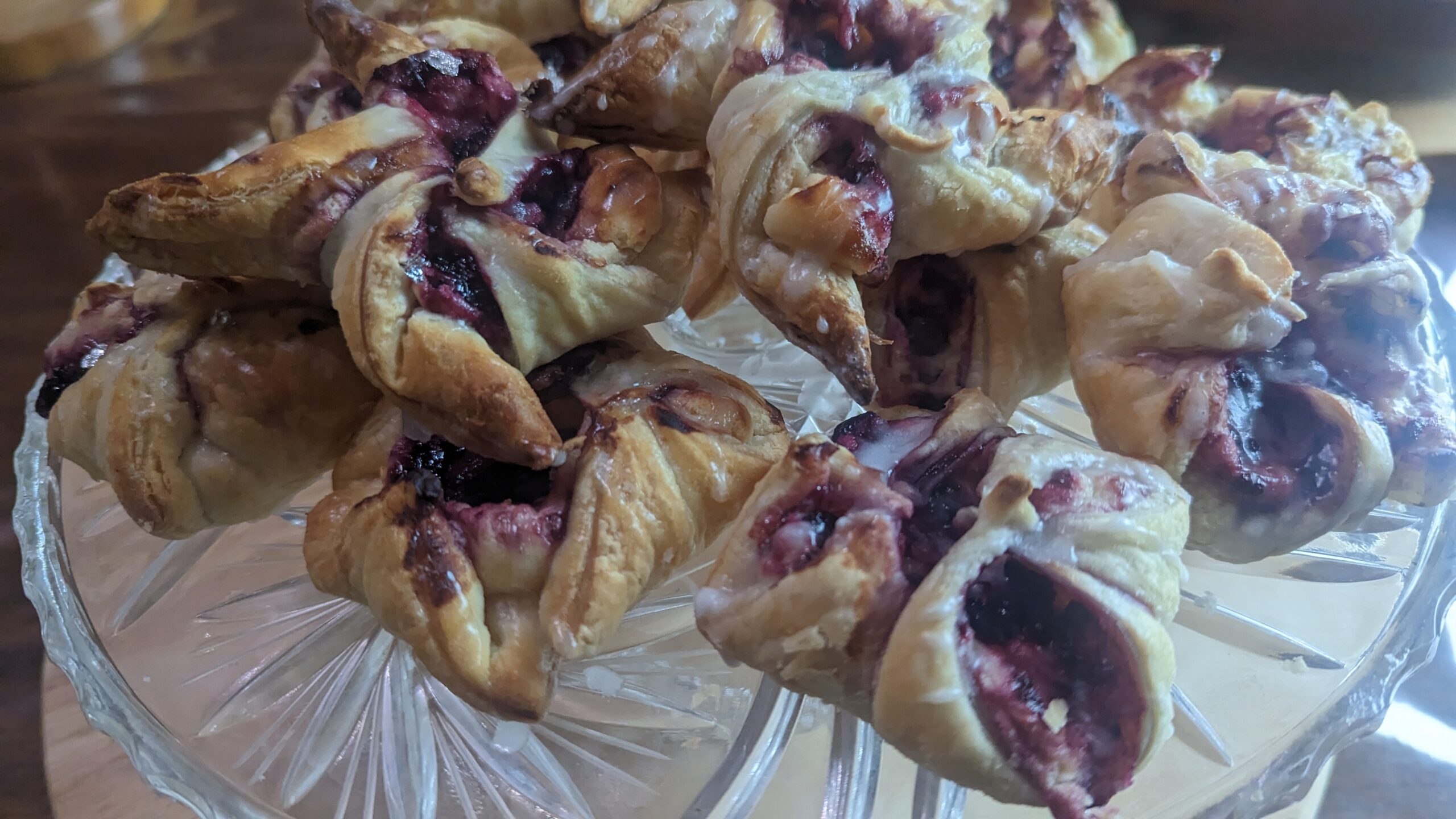 By Erika Mathieu
Sunny South News
I have been looking forward to publishing my favourite puff pastry recipe. I cannot take credit for this recipe, as I didn't develop it. This recipe was originally written and developed by Claire Saffitz, and is published in her debut baking bible, "Dessert Person", an exceptionally written and photographed recipe book with foundational recipes and techniques, complex and advanced recipes, and everything in between.
I have altered the original slightly by increasing the ingredient volume by roughly one third, because Saffitz's original recipe uses three 113g sticks of butter, I have altered my version to use an entire 454g brick of butter which is most commonly found in most Canadian grocery retailers.
Not only is this worth sharing with the price of commodities these days, I think having a frozen sheet of prepared puff pastry on hand opens up a world of culinary possibilities. I personally have used this pastry as a vessel for seasonal fruits and berries, savoury tarts and quiches, or pies.
I know there are plenty of puff pastry recipes out there, and having tried quite a few, the ingredients do not vary all that much. Some may call for slightly more sugar but nailing this recipe comes down to using good technique and keeping everything cold.
Of course, for some bakers, time is money, and the extra time needed to make something like this homemade might not outweigh the cost saving benefits. I do think that it's worth having this in your back pocket.
First things first, this is a non-leavened dough. Unlike a dough which uses yeast, "rising" puff pastry is achieved through layering cold fat between layers of dough. Upon baking, heat rapidly steams liquid in both the dough and butter with enough force to puff each layer of dough before quickly evaporating. These layers are created through a timely and labour-intensive process called laminating, which involves the continuous folding rolling, turning and refrigerating between steps over the course of several hours.
This recipe does incorporate elements of lamination, but is really a hybrid of laminated dough and a traditional pie dough, meaning you won't get patisserie-perfect croissant layers, but rather a slightly denser flaky dough in a fraction of the time. It is worth noting, when called for in this recipe, refrigeration is essential.
This recipe makes enough pastry for 3 medium 8 inch pies. And calls for 454g of cold unsalted butter, 600g of all purpose flour, 3 tablespoons of white sugar,  2 tablespoons of kosher salt, and 1 and 1/3 cups of ice water. To keep things cold, I recommend using a metal bowl for mixing.
Cut 454g brick of butter in half length wise and place one half in the freezer to firm up for 15 minutes, and combine dry ingredients in the metal bowl and set in freezer as well which will help keep everything cold as you work.
Slice the remaining butter once more lengthwise and slice into thin square slices. Place them on a parchment-lined, baking sheet in your refrigerator to keep cold.
In the meantime, prepare 1 and 1/3 cups of ice water, and set aside in the fridge. Remove butter from the freezer and toss in dry ingredients. Working quickly grate the firm semi-frozen butter into dry ingredients and take the remaining sliced butter from your fridge and toss in the flower mixture. Drizzle approximately half of the ice water and use fork to incorporate the dough adding cold water a teaspoon at a time, kneading a few times before dumping the shaggy ball of dough onto a counter or workspace covered in saran-wrap
Being mindful of keeping the dough cold, divide dough in two, wrap tightly and refrigerate for at least two hours. This is partially required to cool the butter again, but also to allow the dough to rest, which will make it easier to roll out. Working with one half of the puff pastry dough at a time, flour the work surface conservatively and "beat" the dough with a rolling pin to make it more pliable to work with and roll the dough into a rectangle, dusting the surface and rolling pin as needed with flour. The dough should be three times longer than wide. I try to aim for 27 x 9 inches. Fold the sheet of dough twice like a letter. Make a quarter turn and roll out to the same dimensions and fold into thirds like a letter as you did before. Rewrap and allow to rest one hour before use. Roll chilled dough out into a rectangle and wrap tightly in saran wrap to safely store in the fridge for 3 days or freezer up to 2 months. Repeat with other half of recipe. Wrap tightly and store in fridge for up to three days or in the freezer for two months.
To thaw allow the pastry to thaw in fridge overnight  before rolling out. Do not proof; there is no yeast and letting the dough warm too much will prompt the butter to melt. If this happens your pastry will not puff.
Bake at 425 degrees for 8-10 minutes until you have observed the "puffing". Lower the oven to 375 degrees F for the remainder of the time called for in the recipe based on the size and filling being used.