Local foodgrains growing project carries on
Posted on April 28, 2020 by Sunny South News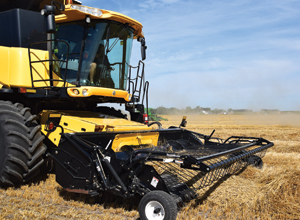 Sunny South Photo by Nikki Jamieson
"Our message is Hope, we especially have to continue this year."
That was the response from one of our organizing committee members. We gathered April 9 to ponder if, or how we could continue our community fundraising project in light of COVID- 19, and it's devastating impact. In our 13 years, we've had some challenges, but nothing like this.
Yet, that virtual meeting was easily one of the most encouraging times of the last month. While we spoke of the difficulties facing many locally, we noted the overwhelming needs of those in many other countries, far less equipped to deal with a pandemic compared to Canadians. We were unanimous in our desire to continue this year.
"The buyers of our crop (primarily local beef producers) are made of impressive stuff, they will continue to support the project," said another member. They may not be able to pay a premium this year, but we will have a market for our crop.
When we consider the diversity of folks who have donated to our cause – from seniors, to parents of young families, small business, and even school kids, all have been negatively impacted. Many of these same folks also volunteer or give locally to food banks, the soup kitchen, and the like. The principle of helping their neighbour here, and abroad, is simply a part of their nature.
"I feel very fortunate as a farmer, I am privileged to be able to carry on," said another. While so much has changed for so many, we still have jobs, and are somewhat more isolated by design.
Perhaps it's never been more appropriate then to continue in the fight to End Hunger, and trust that the support will follow.
I may be biased, yet I firmly believe our committee is filled with "salt of the earth" type people. I suppose we are simply a reflection of the small army of amazing supporters we have in the community. Together, we have raised over 1.68 Million dollars in 13 years, ballooning to 8.4 million once matched by our federal government. It is truly a pleasure to work alongside them, and be a small part of the drive to End Global Hunger.
ED DONKERSGOED
Coaldale-Lethbridge Growing Project committee member