Halloween's a cabaret in Coaldale
Posted on October 22, 2014 by Sunny South News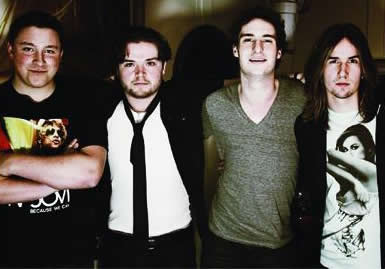 Halloween night, the Kinsmen Club of Coaldale presents a Halloween Fund Raiser Cabaret featuring The Raw Dogs from 9 p.m. until 1 a.m. at the Coaldale Community Centre. Tickets are $10 per person and are available at the door. For more information call 403-345-5820. There will be prizes for best Halloween costumes, so dress up in your Halloween best.

The Raw Dogs feature musicians from Lethbridge, Picture Butte and Jess Dickson from Coaldale. Dickson noted the foursome performs at clubs and has had a few noteworthy opening act slots. "We've got lots of opening slots. We've opened for Honeymoon Suite and Streetheart. We do a lot of gigs on our own and we've gone all the way out to Medicine Hat and Maple Creek, Sask.," said Dickson, who is the oldest band member at 22.

Dickson said the band has been together close to two years and is a high energy live cover band. "We do everything from 1980s rock to modern rock to country to pop," added the vocalist and rhythm guitarist. Dickson, when not working with The Raw Dogs, is working on a body building career.

As for original music, Dickson said the band has been working on material for a future recording endeavour. "We don't have anything that we're really ready to show off yet but hopefully in the New Year we'll have a full album ready," said Dickson.

According to Dickson, the band has come along way from what it was when the band was first starting out. "It's nice to see everyone stepping up and starting to add their own parts vocally and just trying to develop as musicians and add their own two cents to each thing that we do — whether it be originals or covers," he said.

One aspect of the Canadian music scene Dickson has noticed is live music is making a comeback in Canada. "It seems like bands are becoming more popular again and the DJ thing is starting to fade out and everyone seems to be more active with the bands that are coming around," said Dickson.

Since he was 14 years old, Dickson said, he's been playing on and off with the other band members. "We get together and we try and then it works out and then we all get busy or whatever but this time it just seemed to hold on and everyone seems to get into us and like us. For whatever reason, it seemed to work out when it was supposed to, I guess," said Dickson, adding Halloween is his favourite holiday of the year and he is looking forward to returning to Coaldale for this year's fundraiser. "Last year, it was just packed down there. It was awesome. Everyone was dancing and getting into it. Hopefully, this year will be just as good, if not better," he said.

According to Dickson, The Raw Dogs performed for a few charity fundraising events held at Average Joe's in Lethbridge including one for the Coalhurst Elementary School.

Kinsmen Club of Coaldale member Jack Van Rijn added the local organization was recently nominated and won an award for the group's "Carnage in Coaldale" Demolition Derby series, spanning five years. During those years, the demolition derby series brought over 20,000 visitors into Coaldale and helped raise over $72,000 for community-minded projects. Van Rijn noted recent projects included the Spray Park, Garden Grove Playground and the playground at Cottonwood Kinship Park plus the new skating rink/basketball court in the works. The Kinsmen Club of Coaldale won the Volunteer Champion Award during the Southwest Service and Tourism Awards.

Van Rijn said the award-winning organization welcomes anyone interested in joining the Kinsmen Club by contacting Van Rijn at 403-345-5820. "The group is open to any male 18-and-over and there is no cost to join or membership dues," said Van Rijn, adding there are two supper meetings a month on Thursday nights. For more information about the Coaldale Kinsmen visit online at http://www.coaldalekinsmen.com.