Lightfoot is on the road again
Posted on October 22, 2014 by Sunny South News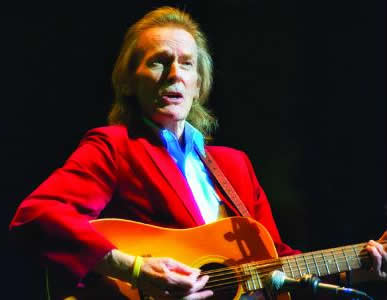 It's sundown in Western Canada, as Canadian folk icon Gordon Lightfoot prepares to hit the road for the second leg of his cross-Canada tour. Lightfoot performs live at Enmax Centre Nov. 1. "We do it every three years. That's the way we do it," said Lightfoot.

"We're always excited as heck and happy to be working and we really feel fortunate — really fortunate," said Lightfoot, adding Western Canada has been very supportive of Lightfoot's music over the years.

Lightfoot, one of Canada's national treasures, is celebrating five decades and counting of being a beloved singer, songwriter and world traveller, with a six-string on his back. As for a live Gordon Lightfoot show, Lightfoot noted he digs deeply into the tried-and-true standards.

Lightfoot's hits include "Sundown," which was a number one hit single on the American music charts in 1974. Other hits included "Early Mornin' Rain," and "The Wreck of the Edmund Fitzgerald" — which was inspired by a Newsweek magazine article and reached Number Two on the U.S. Billboard charts.

It was during the early 1960s Lightfoot carved a niche in the folk music scene, as he began playing in coffee houses throughout Canada and the U.S. As a Juno Award-Winning songwriter, many artists recorded his songs including Bob Dylan, Johnny Cash and Elvis Presley.

"I dig deeply into standards. I do about 15 of those songs, which we do every night and the rest of it is always in a constant state of rotation," said Lightfoot.

A few years ago, Lightfoot was the victim of an Internet death hoax, which fortunately wasn't true. Lightfoot said he gets out on the road each and every year and performs between 60 and 70 shows but this year Lightfoot said his quintet is going a little overboard. "We're doing 88 shows this year. We're going to do it while we can. The work is there and we're going to do it," said Lightfoot.

According to the Canadian Songwriters Hall of Fame and U.S. Songwriters Hall of Fame inductee, there are a few veteran artists currently out on the road on tour.

"Bob Seger is out on one and Tom Petty's out on one. They come and they go. We work around these guys all the time. We actually play more than they do," he joked.

Lightfoot has won 15 Juno Awards and has been nominated for five Grammy Awards. In 2003, he was made a Companion of the Order of Canada. He was also a featured guest on "Canadian Idol."

Today, Lightfoot hits the road and performs consecutive nights from town to town and in theatres, casinos to concert halls — all without a new album to promote.

"We don't do merchandising either. We're doing it straight out of ticket sales," said Lightfoot.

But… Lightfoot prospers and is alive and well in a musical climate where songwriters are a dime a dozen in most Canadian and U.S. cities.

"There's good stuff around. I don't know what's happening over in the rock side. I really can't reach back that far with my age now but I listen to the radio like everybody else and you hear what's going on," Lightfoot explained.

When not touring, Lightfoot said he spends time with his family and his hobby these days is writing songs, not for going into the studio or for an album — but just for the fun of it.

"I can still get completely absorbed in it if I'm given a good topic to think about. I'll spend months thinking about it. Whereas, I used to write a song in two hours," he said.

Spending a lifetime on the road is not an easy task but Lightfoot believes it's still an enjoyable experience and it's not to be taken lightly.  "You always hope you're going to get enough people to keep the edge and so far we've been able to do that and keep everything intact and everything paid for and able to go on the next trip. Then I have my catalogue also — there's that part of it. We're in good shape to be out there doing what we're doing," said Lightfoot. "It's just like Willie Nelson says — we're on the road again," he joked.

The Legendary Gordon Lightfoot. Show starts at 8 p.m. Tickets are available to purchase in a variety of price ranges online at http://www.enmaxcentre.ca.