Safety prize for JEES student
Posted on February 10, 2015 by Sunny South News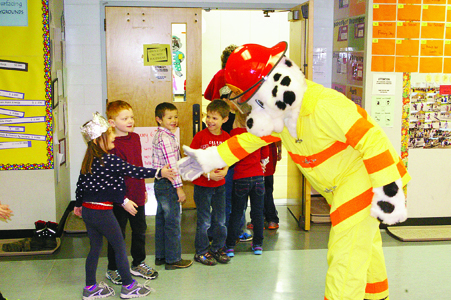 By Stan Ashbee
Sunny South News
Fire safety was a focus at Jennie Emery Elementary School (JEES) in Coaldale last week, as a teacher and student won a contest from late last year.
Members of Coaldale and District Emergency Services (CES) and ATCO Gas were on hand to announce the winners and present prizes.
Mascots Sparky the Fire Dog and ATCO's Digger the Prairie Dog also paid a visit to the school.
"Back in October, I think some of you remember a Fire Prevention Week contest. We're fortunate enough — it was a winner from this school that won the contest," said Assistant Fire Commissioner and Town of Coaldale Coun. Jacen Abrey during his presentation to staff, students and parents at an assembly held last Friday morning.
On behalf of the Office of the Fire Commissioner, ATCO Gas and CES prizes were presented to a teacher and a student — the winners were teacher Jolaine Kunz and Grade 3 student Tristyn Penner.
Kunz received a $250 gift card for an educational store and Penner won an iPad mini.
Pat Goodfellow from ATCO Gas said safety is something the company takes very seriously, during his presentation.
"We want our employees to work safely and we want our customers, just like you and your moms and dads and parents and teachers, to be safe as well. Parents and teachers, I encourage you to continue teaching our children in emergency response and what to do in an emergency," said Goodfellow.
A while back, Goodfellow stated, students received a fire safety brochure and he wanted to take time to ask students what they remembered from the brochure.
Goodfellow asked students how often should a person check smoke alarms? A student answered, "Once a month." The student was correct, said Goodfellow.
During CES Fire Chief Andy Van Rijn's presentation, he noted it wasn't the first time CES was at the school to present a winner with a prize. In fact, Van Rijn added, Coaldale has had a winner a total of three times.
"It's great to see Coaldale participates. In the province, there are over 20,000 entries into our fire safety contest back in October," said Van Rijn.
Van Rijn said it's awesome having students participate in learning about fire safety.
"That's great to see and keeps Coaldale a lot safer," added Van Rijn.