Gem is destined to be the ultimate day-use facility in the county
Posted on February 17, 2015 by Sunny South News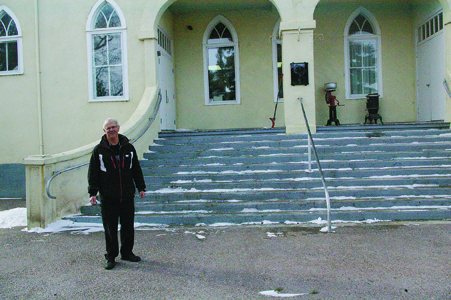 By Stan Ashbee
Sunny South News
Southern Alberta history is preserved at one of Lethbridge County's finest tourist attractions — the Gem of the West Museum, located in Coaldale.
Presently, upgrades are being done to make the facility multi-faceted with a chance for visitors to take a break and relax outside at a planned day-use plaza, which extends from out front of the museum right around to the back.
"What we're looking at is enhancing the use of this building complex by making an area outside with many facets," said Duncan Lloyd, president of the Gem of the West Museum Society.
Lloyd noted the upgrades at the facility will include picnic tables and a barbecue in a fenced-in area.
"(Visitors) can sit and have their lunch or whatever or if community people or groups want to rent it, we'll have a large kind of commercial barbecue and then of course we'll have the picnic area. It's all fenced off and screened from neighbouring and front properties. It's going to be a place where groups can have a gathering together with a barbecue. It's more of a passive area than an active play area," added Lloyd.
According to Lloyd, work got underway on the enhancement project last year, with the re-pouring of the concrete in front of the museum already completed and other work to be completed this year.
"We've got to purchase a barbecue, we've got to re-fence the whole east side of the property, and we've got to purchase tables. Van Rijn Electric donated the lighting — that's all done and in place. We've had really good co-operation — the Kinsmen have given us money, the Town of Coaldale has given us money, the provincial government has given us money and also Lethbridge County has given us $13,500," said Lloyd, adding over the holidays in 2014 the society received a $15,000 donation through the Alberta government's Community Enhancement Program.
Lloyd said to complete the project the society is looking at a price tag of between $50,000 to $60,000.
"That could go up a bit too depending on how many flower pots and all that kind of decorative stuff that we also put in this area," said Lloyd.