Bacon is new county director of municipal services
Posted on February 24, 2015 by Sunny South News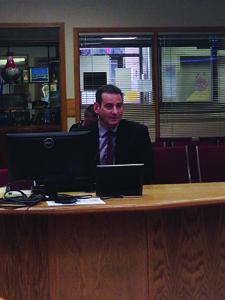 By Stan Ashbee
Sunny South News
At a Lethbridge County council meeting held Feb. 18, county Chief Administrative Officer (CAO) Rick Robinson introduced to council the county's new Director of Municipal Services Rick Bacon.
Kevin Viergutz, the county's current director is retiring, with his last day slated for Mar. 20.
According to Robinson, Bacon started in his new position last Tuesday and comes to the county from Flin Flon, Manitoba.
"I think I have some big shoes to fill. Kevin's been a great asset to your community but I think your administration chose the right person," said Bacon, who graduated with a municipal background.
Bacon noted he spent 12 years in Flin Flon, where he started as the assistant director of works and operations and then two years later became the director.
He also managed several major projects including a new wastewater treatment plant.
"I ran a city with major challenges," said Bacon, adding the county has similar challenges but over a broader area, as opposed to the challenges he once faced on a smaller scale.
"I welcome the challenge and I appreciate the opportunity."
Bacon added his background is also in construction, where he lived in Toronto, ON for three years and was employed as a field engineer on one of the highways.
"That was where I got my background in highway construction bridges. From there, I moved to Winnipeg and worked for PCL Construction and got into the heavy civil and structural side and built several buildings, new bridges and then ended up going to start a mine in Flin Flon," said Bacon, adding it was in Flin Flon where he met his wife.
"My wife and family will be coming to Lethbridge, very shortly," he added.