Video Games Live returns to southern Alberta
Posted on February 24, 2015 by Sunny South News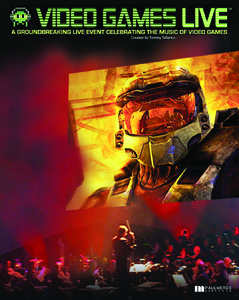 By Stan Ashbee
Sunny South News
Young and old turn to a plethora of video game systems to get their game on — from Xbox to PS4 to the Nintendo Wii U — one constant remains the same and that is today's video games have great soundtracks thanks to top-notch video game composers. Gamers and non-gamers alike can join in an evening of the best video game music ever made at Video Games Live, an immersive concert event, this Sunday night in Calgary at the Southern Alberta Jubilee Auditorium.
"Video Games Live — it's all the greatest video game music of all time played by a full symphony and choir but what makes it very special and unique is everything's completely synchronized to massive video screens, stage show production, interactive elements with the crowd and rock and roll lighting. I kind of like to describe it as having all of the power and emotion of a symphony orchestra but combined with the energy and excitement of a rock concert mixed together with all the cutting-edge visuals, technology and interactivity and fun that video games provide," said Tommy Tallarico, creator and producer of the touring show. Tallarico is an industry veteran and world-famous video game composer.
According to Tallarico, his goal in creating the show was to prove to the world how culturally significant and artistic video games have become. "I also wanted to help usher in a whole new generation of young people to appreciate the arts," he said, adding he started the show 13 years ago and has headed out on the road on tour for the past 10 years. In fact, Tallarico noted, Video Games Live recently received a Guinness World Record for the most symphony performances for a travelling show with over 310 shows. The live show always uses local musicians, wherever the tour goes. Video Games Live has visited Calgary at the Jubilee Auditorium a number of times and the Calgary Philharmonic has performed.
"Because that's kind of the whole idea of helping to bring in a new audience to these local symphonies. That's like a major goal of ours. In order to do that, we want to use the local musicians," said Tallarico.
Not only will there be live music, the night will also feature pre-show activities in the lobby of the venue including a costume contest, games and a Guitar Hero competition.
"The person who gets the highest score, before the show, we actually bring them on stage and the winner plays Guitar Hero, while I play live guitar along with them and the symphony performs along with us. If you could imagine up on the big screen," he explained.
Tallarico has been a video game composer for over 25 years and holds another Guinness World Record, as he has worked on over 300 video games including Earthworm Jim, Madden Football, James Bond, Pacman, Sonic the Hedgehog, Metroid Prime and Tony Hawk Pro Skater. "In Guinness, I'm listed as the person who has worked on the most video games in a lifetime."
Being a video game composer, Tallarico said, he wanted to show non-gamers how important video game music has become and how amazing it is.
"It's not just a bunch of bleeps and bloops anymore but it's full symphonies. That kind of changed when I first got in the industry. It was a bunch of bleeps and bloops but in the mid-1990s, when CD-ROMs became available as storage mediums, we were able to start recording live bands and live orchestras. It took the jump from bleeps and bloops to real music — real recorded music," said Tallarico.
As for a live show, Tallarico noted, he sends out the music in a PDF file months ahead of a performance by local symphonies and choirs but the music isn't performed until the night of the show. "We do a rehearsal on the day of the show. We do one in-person rehearsal with everybody. The reality is — when you're working with talented professional musicians, they read sheet music," said Tallarico, adding all they really need to do is go through the material once to understand where the tempo changes happen and all the music follows a click track.
This weekend marks the fourth time Video Games Live has visited Calgary. Tallarico wants fans to know the show is always different, as the show is changed each and every year it hits the road.
"Even if you've been to a Video Games Live before, you're going to see a whole bunch of stuff we've never played before in Canada," said Tallarico, adding there's always something new. Featured music during the show will be from the latest Warcraft game, Monkey Island, Skyrim, Mass Effect, Sonic the Hedgehog, Metal Gear Solid, Castlevania, Chrono Trigger and will feature a new Zelda lullaby and a new Final Fantasy Six opera piece.
Tallarico said the "Video Games Live — Level Four" album was just released last week. It is the fourth album, which features a collection of video game hits. The new album was funded through Kickstarter.
Tickets for the Calgary show are available online at http://www.ticketmaster.ca.
Or by phone at 1-855-985-5000.