Canadian Badlands are out of this world
Posted on March 19, 2015 by Sunny South News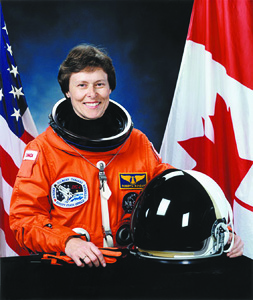 By Stan Ashbee
Sunny South News
An out of this world conference is being held Mar. 25-27. "Venture to Discovery" with the 5th Annual Canadian Badlands Tourism Development Conference and 2015 Annual General Meeting. The event will feature keynote addresses by former Canadian astronaut Dr. Roberta Bodnar, Robin Esrock and David McKenna.
Canadian Badlands Tourism was created to direct the development of tourism across the region, which includes 62-member municipalities throughout southeastern Alberta — including the Town of Coaldale, Village of Nobleford and Town of Picture Butte. The Canadian Badlands has unique coulee landscapes and hoodoo rock formations in Canada's "Wild West."
Dr. Bodnar is most known for her journey on NASA's space shuttle Discovery in 1992, and was the first neurologist in space and Canada's first woman astronaut. She is also an educator, speaker, photographer and writer. Esrock is a a bestselling author, award-winning journalist, blogger, and international broadcaster. He is the creator and host of the 40-part series, "Word Travels." McKenna is president of Brewster Travel Canada. According to a media release, all of the keynote speakers will be sharing stories and lessons to inspire those in attendance to "Venture to Discovery" in tourism within the Canadian Badlands.
Dr. Bodnar was a payload specialist and conducted over 40 advanced scientific experiments for 14 nations. Back on Earth, Dr. Bodnar and her team examined data from astronauts on 24 space missions to better understand the mechanisms underlying the body's ability to recover from exposure to space.
As for speaking engagements, Dr. Bodnar noted, every engagement is different. But she does like to discuss her involvement in regards to the environment in Canada and specifically in Alberta. Dr. Bodnar often talks about the wealth and diversity of the lands and lifeforms.
"One of the places I've always found intriguing was basically the Badlands," said Dr. Bodnar, adding she has done a lot of photography around Dinosaur Provincial Park.
A lot of times, when people view her photos, Dr. Bodnar said, they don't even realize the pictures were taken in Canada.
"They think that I've gone to some Far-Off-Istan to take this picture," she joked. "I really try to educate people and say, hey we have these things in our country and people need to get out of the mold that if they want to go to other countries because they think that something's unusual — all we need to do is look in our own backyard because Canada is so diverse."
At the conference, Bodnar added, she wants to talk about how people can evolve their thinking about the country and also about what Canadians continue to find because Dinosaur Provincial Park is not a static place.
"A lot of people look at the environment as being sort of on a ledge on a flat planet and that this is where it has evolved to and it's not going to go any farther. To get people into a mindset of change and Dinosaur Provincial Park or the Badlands are really an area that really speaks to evolution because you have prehistoric dinosaurs or historic kinds of changes that we see with erosion features and etc. And it continues to change. I think those are important for Canadians to understand — that we have things unique in the world," said Dr. Bodnar.
Aside from speaking engagements, Dr. Bodnar also has a foundation, in her name.
"What I decided many years ago, when I was Chancellor at Trent University, was there needed to be a way to draw people into the environment to keep it as part of their personal heritage. I always felt when you love something, you will then want to protect it. The first step to environmental protection is to have people engaged in the environment and understand how different it is and how complex it is and how much we need to take care in the decisions we make that will influence the future evolution of that particular place," Dr. Bodnar explained.
Dr. Bodnar said she visited all of Canada's national parks in the 1990s, as part of a self-design project, where the photographer took pictures of what she felt were iconic images of the landscape of Canada, as represented in all the national parks, as it existed before the end of the millennium. "From that I was able to have these big pieces of art with no human activity in them, just all about our natural environment."
"These have travelled across Canada in various forms at various types of exhibitions," she said.
These photos sparked questions about science, which became the foundation of the foundation. "To engage people in the environment through the art of photography," said Dr. Bodnar.
Dr. Bodnar has also been putting pen to paper, so to speak, over the years.
"I like writing. Contrary to most people's thoughts, my best subjects were English and French. It wasn't really Physics and Math," she joked.
She has written various essays for environmental-related publications and has provided introductions for various literary collections but Dr. Bodnar has wanted to write a fiction novel. "I just finished writing a fiction book on a Sandhill Crane that gets lost. I'm not going to give it all away."
As for space exploration, Dr. Bodnar said, she follows it but isn't an active participant these days.
"I did a lot of space medicine for over 10 years with NASA after my space flight," said the doctor.
"We put the last scientific paper I was involved in, it was about two or three years ago. I don't want to say stepped away from it but basically, I have. I keep my hand in it, in a sense I keep my reading up because there are times when people would like me to talk about space medicine or try to encourage young people about thinking about space."
Alberta, Dr. Bodnar said, is a great province and she really likes Alberta tourism. "Showing the breadth of Alberta. The Badlands is a great place to talk about that there's so much that goes on in Alberta. I just think it's a wonderful province and I'm always very happy and delighted when I can go out there," she noted.
This year's conference is being held in Strathmore at the Civic Centre. For more information visit online at http://www.canadianbadlands.org/cbl/conference.