Hope Club helps local food bank
Posted on March 19, 2015 by Sunny South News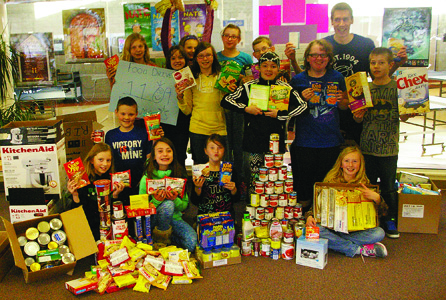 By Stan Ashbee
Sunny South News
R.I. Baker Middle School in Coaldale brings hope to those needing it most within the community and abroad. The school's Hope Club recently held a food drive to help support the Coaldale Food Bank.
"They meet about once a week and they're just trying to come up with ideas and brainstorm different initiatives to help improve our school and our community. All of the ideas come from them. What I do is, I just provide a space for them to meet and a little bit of oversight to help them try to carry out their ideas," said Blake Wheler, a Math and Science Grade 7 teacher.
Wheler noted the club was originally started by another teacher, Tarilie Thomas.
"This awesome group of kids — they almost work, pretty much on their own. They come up with ideas, they come up with plans and then we just carry them out to try to make the school a better place," he added.
According to Wheler, the students will be bringing the food donations to the food bank, as the group felt the food bank needs food throughout the year.
"A lot of time organizations will focus on Christmas or other times of year. We wanted to try and spread something out in between because we know sometimes it can be a long cold winter," he said.
The club managed to bring in more than 1,000 food items.
"We're super excited to have surpassed our goal and built up some positive energy of the whole student body and staff," said Wheler. R.I. Baker's Hope Club is open to all grades but currently is made up of students from Grades 5-7.
One of Hope Club's student volunteers is Grade 5 student Mackenzie Curtis, who joined the club because one of her friends were a part of the group but has since learned a thing or two about helping others.
"I've learned it's for hope and you're trying to make other people have a better life," said the 10-year-old.
"I think we raised a lot of food," she said, adding it was a lot of fun too.