Don Shimek UFA celebrates 25 years
Posted on April 21, 2015 by Sunny South News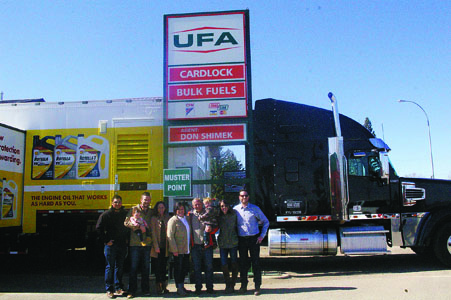 By Stan Ashbee
Sunny South News
For the past 25 years Don Shimek's Picture Butte UFA has been an integral part of the community. The UFA celebrated the local petroleum agent's 25th anniversary last Wednesday with food, drinks, treats, prizes, giveaways and a visit from the Shell Rotella Roadshow.
According to a media release, UFA is proud to host the roadshow — a travelling technology centre featuring interactive displays and demos.
The truck exhibit is a fully-customized grassroots, mobile marketing vehicle. The tour travels across North America for eight months — visiting lube centres, truck stops, distributors, dealerships and major industry trade shows. Last week, the truck made additional stops in Vermilion and Camrose.
"We were fortunate enough to get the roadshow for Don's 25th anniversary. It's great to get our customers together for a barbecue and to celebrate," said Alanah Borbely, marketing and communications co-ordinator for UFA petroleum.
"It seems like yesterday that we started here," said Shimek, in regards to being in business in Picture Butte for over two decades.
Shimek added he has had great support over the years from the community. "The customer-base has been fantastic," he said.
As for the future, Shimek noted, everyday is a new day. "We hope to be able to serve everyone better each day we carry on."
Shimek, according to Patrice Fielding from UFA, is integral in the community. "Having all of his family, friends and customers come is a great anniversary celebration and we have a great partnership with Shell, so them bringing the truck here, we booked this a long time in advance. It doesn't come our way very often. It's great to have it here," said Fielding.
Mike Hutchinson, UFA petroleum area manager, said he is very excited to have Shimek celebrate 25 years with UFA and serving the community.
"This is a very exciting day for all of us with Shell Rotella here and we just look forward to all the community enjoying the day and thanking Don for his 25 years of service," said Hutchinson.
UFA delegate Mark Sayers noted Shimek has done a lot for the community too. "You always see in the Sunny South News he's always promoting things and supporting local sporting events and anything in the community. He puts a lot of time and effort into his community, which is really unique and that's one of the cool things about UFA — is that their agents do support their communities," said Sayers.
Sayers added it's great to see someone in the same business for 25 years.