Legion's legacy in Nobleford
Posted on April 21, 2015 by Sunny South News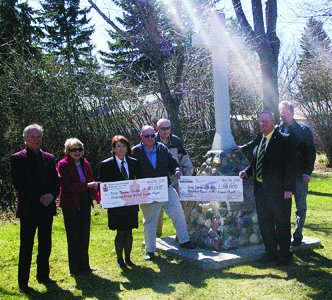 By Stan Ashbee
Sunny South News
Sadly and with bittersweet sentiment the Nobleford Legion is closing its doors but one of the organization's last orders of business was to write a $30,000 cheque to the Village of Nobleford to establish a Legacy Fund to go towards a community project — yet to be determined.
"As a Legion branch, we're shutting the Legion down. In closing our doors, we've got a surplus of $30,000 that we're going to turn over to the village in trust. With the village's help, we can establish a legacy that would leave a memorial to the Legion and to the folks that set it up," said Bill Plomp, vice-president of Nobleford Legion Branch #257.
According to Plomp, the village will match the $30,000 and will work with former Legion members and other Nobleford societies to secure a provincial grant for $60,000. The details of what the estimated $120,000 project will be discussed with the community and plans are to finish the project for Nobleford's 2018 centennial.
"We want the community's input. We want the various service groups to all have input into this, so it's something that will end up being a service to the community," he noted.
For 65 years, the Nobleford Legion has been a part of the community but membership has decreased.
"We're at that stage, where we just can't stay viable anymore. It is very much bittersweet," said Plomp.
The understanding is — many rural and smaller Legion branches are in the midst of a decrease in membership across Alberta and Canada.
"There are other branches that have closed their doors, as well, and memberships are down," he added.
The official end of Branch #257 will be very soon, in regards to the doors being shut for good.
Last Thursday afternoon, Plomp and other Legion members officially handed over a cheque to the Village of Nobleford for the Legacy Fund.
"I'm happy that we're able to give this much towards the Legion legacy project but I'm very sad we have found that we have to fold," said Legion secretary and lifetime member Lucinda Luchia.
Wanda Luchia, Legion treasurer, said it's sad because the Legion is such an important part of Canada and the history of Nobleford.
"It's just a sad thing that the membership dwindled to the point where we had to relinquish our charter but I'm really excited we're able to turn $30,000 into $120,000 — assuming we get the grant money," said Luchia.
According to Legion Branch #257, the Nobleford branch was established in the 1950s by war veterans returning home. In 1957, the Legion acquired the town hall, which became Legion Hall. Legion Hall was sold in 2004. Over the years, the Nobleford Legion established the Civil Defense Program, which evolved into what is now the well-equipped and well-trained Nobleford Fire Department.
The local Legion also sponsored many little league baseball teams and built ball diamonds, skating rinks and playgrounds plus it supported community youth.
During the cheque presentation ceremony Nobleford Mayor Don McDowell said a young growing community, such as Nobleford, needs to look at this project as being a part of their future.
"Not necessarily ours. Most of us are getting to the pushover stage but the kids coming up — they've got to have something," said the mayor.
Any community contributions to the Legion's Legacy Fund and/or project input is welcome and can be submitted via e-mail to legionlegacy257@gmail.com or contact Wanda at 403-824-3254 or Bill at 403-327-8195.