Monarch students dig into school's new improvements
Posted on April 21, 2015 by Sunny South News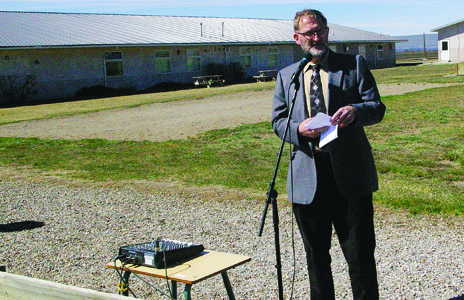 By Stan Ashbee
Sunny South News
Students, parents, alumni, staff and long-time supporters of Providence Christian School were eager to dig into a recent 9,000 square-foot building expansion.
A groundbreaking and first sod-turning ceremony was held last Thursday afternoon in Monarch.
According to Ian Donovan, Little Bow Progressive Conservative candidate in the next provincial election, it was truly a proud moment to see all the volunteers and all the time and effort everyone has put into making the expansion possible, which will include a new gymnasium and classrooms.
"You've raised amongst yourselves about $180,000 — which is truly amazing and it goes to show the pride you have in your community and in this school," said Donovan, as he addressed the crowd.
Donovan added he knows the building committee has put in a lot of time as well as all the parents, grandparents, aunts, uncles and volunteers.
"Congratulations to the kids because hopefully next year at this time you'll be able to enjoy a new gym," he added.
School Principal Hugo VanderHoek said long-time supporters of the school were invited to the groundbreaking event — supporters who have been involved with the school since the very beginning.
"We thought it was only appropriate to give them the honour to be the first to turn the sod," said VanderHoek, as invited guests and students took turns shovelling sod and students held a balloon release to celebrate.