Schneider steps up to the Wildrose plate
Posted on April 21, 2015 by Sunny South News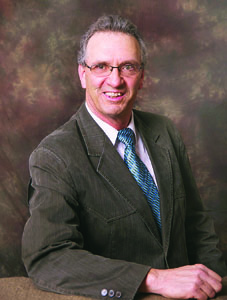 By Stan Ashbee
Sunny South News
Dave Schneider is the Little Bow Wildrose MLA candidate for the upcoming Alberta Election set for May 5. Schneider is no stranger to southern Alberta, as he was and is still a farmer since the 1980s.
Even though Schneider has been involved in municipal politics for years, this is the candidate's first foray into the provincial political arena. Schneider served on Vulcan County council for six years and was reeve for three of those years.
According to Schneider, as he started researching who the Wildrose candidate was in his riding, he found there was no candidate, as of yet.
"I got my name in and became the candidate," he noted.
Schneider said the Wildrose believes Albertans are looking for a better vision than the PC plan of higher taxes and less services.
"The Wildrose is really standing up for Albertans. Standing up for patient-centred healthcare is one that is pretty big, healthcare in rural ridings is a tough one, doctor recruitment and retention of doctors is a pretty big deal. I sat on a couple of committees when I was a Vulcan County councillor and (we) did our best to take care of those problems for the Vulcan Hospital," he said, but issues remained including ambulance degradation and central dispatch woes. He added, nowadays, fire departments have become southern Alberta's first responders.
"Those are all volunteers and we're wearing them out. Those are important issues."
Schneider was asked with the recent floor-crossing of many Wildrose MLAs to the PCs — will that be a detriment to his campaign, as a Wildrose candidate in Little Bow?
"Out of all the people I've talked to so far, everybody has a comment about that happening. The question is, am I going to cross? And of course, Wildrose candidates have signed a contract that says they will cough up a year's salary if they do cross the floor to another party. It's a non-issue, as far as this campaign moving forward but I have heard lots of comments about floor-crossing," he explained.
Locally, what a lot of constituents in Little Bow probably don't even realize, Schneider said, is there was an initiative the provincial government came up with that was fantastic — the Municipal Sustainability Initiative (MSI).
"It was for capital and operating. It was from the provincial government and it was secure and stable funding for capital, for infrastructure and municipalities relied on that. That was a fantastic program and it's now degrading to a collaboration program that has to be linked with another municipality in order to get any funding. I know these rural municipalities, because I sat as a councillor on one, the bridge files have been pulled from Alberta funding, period. They used to take care of bridges — the structures themselves, replacement, and changing them from a solid structure to those big culverts you drive over once and a while. Those are all now paid for by the rural municipalities and that's a killer," he said.
The municipalities that got the same kind of funding, Schneider said, were able to do their main streets and buy more equipment to keep up with snow removal and such.
"It's degrading. I know the Wildrose platform is a 10-10. Ten per cent of any surpluses and ten per cent of gross revenue."
It has to be long-term and sustainable, Schneider added, and the municipalities got used to how it was.
"Now that it's been taken away, that's a tough one for all rural Alberta — for all Alberta," said Schneider.