Transportation award for Lethbridge County's innovation
Posted on April 21, 2015 by Sunny South News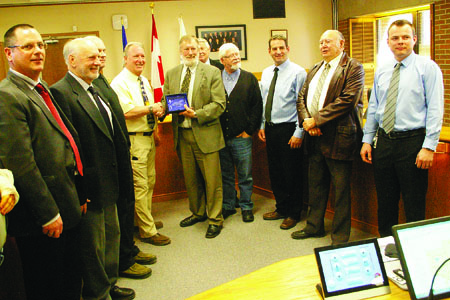 By Stan Ashbee
Sunny South News
Lethbridge County recently received an Alberta Minister's Award of Excellence for Transportation Innovation with the implementation of a Calcium Chloride Stabilized Test Sections Project.
Rick Bacon, the county's new director of municipal services, provided council with a background report last Thursday, in regards to the project and award win.
Bacon noted in the report, as part of the county's effort to build and maintain a haul route network that will withstand the county's intensive agricultural operations, the county proceeded with the implementation of the test sections project. The test section, according to the report, is located on Range Road 20-3 between Highway 25 and Highway 519. The roadway was split into 24 individual test sections in approximately 1,000-foot intervals.
Four-inches of a modified gravel was placed and treated with liquid and dry calcium chloride at varying depths.
In the fall of 2014, the report stated, an application was submitted to the Alberta minister of transportation for this project to receive the award.
The report also stated, the test section project was selected as the award-winning project for design innovation. There were a total of six projects in Alberta that received awards in six different categories. The county officially accepted the award Mar. 23 at the annual Tri-Party Conference in Red Deer.
"This project is a direct result of the haul route business case council instructed administration to move forward," said Kevin Viergutz, previous director of municipal services, as he addressed council. "So far, it's been holding up really good. From last July until this spring, we only had to touch one of the gravel test sections once with a grader," he added.