Coaldale car club cruises into town
Posted on May 19, 2015 by Sunny South News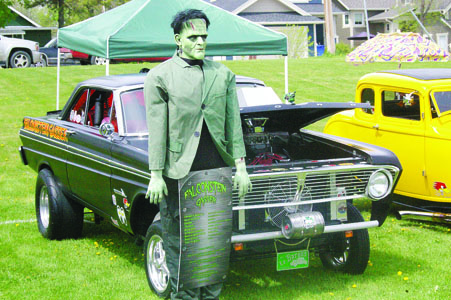 By Stan Ashbee
Sunny South News
Classic cars, muscle cars, souped-up trucks and pin-up girls are part of the fun at this year's Coaldale Custom Cruisers 14th Annual Show and Shine this Sunday. The annual car enthusiast's dream is held in the field at R.I. Baker Middle School in Coaldale. Registration starts at 10 a.m. and the show kicks off at noon until 4 p.m.
According to Coaldale Custom Cruisers car club President Gary Klassen, there were over 164 registrations last year.
"We've improved every year, which is nice," said Klassen, who has been president of the club for the past eight years.
The show, one of the first car shows in southern Alberta in a summer car show circuit, features registrants from across Alberta, British Columbia and Saskatchewan.
"Last year, was one of the best shows we've had. It was a really good show," he added.
On location, Klassen noted, Coaldale Emergency Services will be holding a barbecue with funds raised to go towards the local department. The Kinsmen Club of Coaldale will also be on hand with tickets for the club's Harley raffle.
Klassen said pin-up models will also be walking around to pose with cars and there will be some really great door prizes for registrants including a trip for two to Las Vegas, sponsored by Gary Klassen Remax.
The show and shine has free admission but there is a $10 registration fee, which includes door prizes. Door prizes include a pin-up girl picture drawn by a local artist plus a 50/50 draw with proceeds going to the Coaldale Food Bank and the Christa Spahmann Memorial Scholarship.
"Her dad is one of the original founders of the car club," said Klassen.
Klassen said the club was originally started by a handful of guys wanting to start a club in town, rather than going to Lethbridge.
The great thing is, you don't have to own a car to be a member of the club, you just have to like cars. It's a fun hobby and the club is always looking for new members. The club meets every second Wednesday of the month. For more info call Klassen at 403-330-4598.