Seniors stay active at Piyami
Posted on June 9, 2015 by Sunny South News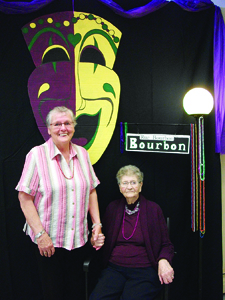 By Stan Ashbee
Sunny South News
Staying active is indeed an important part of becoming a senior. In Picture Butte, at the action-packed Piyami facility, residents take part in a variety of fun activities.
"Probably, their favourite is actually exercise. We do offer exercise twice a day, just about. We offer it first at the Lodge and then we have a separate class down at the other end at the Place," said Laura Tokai, Piyami's activity co-ordinator.
She added residents from the manor are also able to join in during any of the events or activities listed on the calendar.
Programs for seniors at Piyami include a news and views group, church groups, weekly barbecues through the summer, games, and card games such as Rummy and Uno.
Tokai noted there are also inter-generational programs offered to seniors in collaboration with local schools. "We have the kids coming in for that."
During the news and views program, seniors get together once a week to sit down with coffee and donuts and examine the news happening throughout the lodge, in Picture Butte, in the surrounding area including Lethbridge and a look at what's news worthy throughout the world.
"Anybody that has any information they learned throughout the week is able to bring those pieces of news down and then we just talk about it and discuss some of the news people have heard or whatever," said Tokai, adding one senior is also considered the resident weather girl.
"We have one lady that likes to do the weather for us. She will give us the forecast for the week," she joked.
Tokai added happy hour is usually held once a week, as well.
As for local kids visiting Piyami, Tokai said, students from Grades 2-9 have come in plus a leadership class and volunteer class from Picture Butte High School.
"They want the high school students to keep the art of communication alive," she said.
The Between Friends program, Tokai said, is basically younger grade students come in to form relationships with the seniors.
"Some of them don't have grandparents that live close by or anything like that, so they come in and they do all kinds of different programs."
Students interview the seniors at the beginning of the year to learn a little bit about each senior and then the student and senior take part in programming.
Program highlights include making homemade ice cream, learning about the history and past of a senior, a fashion week, model builds and a plethora of fun-filled activities.
"It really depends on the class and the seniors," said Tokai, in regards to what activities happen during the Between Friends program.
Seniors also take part in trips, she said, which happen usually every three months.
"Once a month we will take them out shopping to Wal-Mart. We do offer Butte Bus Day — which is an opportunity for them, it's actually like a bus service, so they can sign up where they want to go between the hours of 10 a.m. and 2 p.m. and I will drive them, whether it's a hairdresser appointment or out to lunch with a friend or up to the drug store. I just take them back and forth," said Tokai.
Picnics at Lundbreck Falls, trips to a greenhouse, lunch outs and outings to Waterton are also part of the programming at Piyami.