Bird is the word
Posted on June 30, 2015 by Sunny South News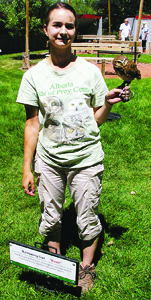 By Stan Ashbee
Sunny South News
Southern Albertans have no doubt heard about the Alberta Birds of Prey Centre located in Coaldale.
But, now it's time to meet some of the dedicated staff and noteworthy winged guests at the summer tourist attraction. The centre is open daily from 9:30 a.m. to 5 p.m. and seven days a week until Sept. 10.
At the beginning of May, staff member Nicole Shaw began her stint at the Alberta Birds of Prey Centre. Shaw is a Lethbridge College student, enrolled in the Environmental Science program.
"I thought this was a good fit here. Most of the staff members are actually from the college or the university. Mostly, in the environmental program and the veterinarian program, as well," noted Shaw, as she provided a walking tour of the facility.
Shaw said it has been really great, so far, being a part of the local nature centre's team.
"Everyday in June we've been having a tour. We're really booked for June and a little bit of July. It's just mostly educating school children from Grade 2 all the way up to Grade 6, even Kindergarten students. We usually take them on the Hawk Walk first and then we grab some owls and we talk about each of the owls. Just about, if they are native here and what they like to eat. Just what kids would enjoy. We usually pick up Basil, which is a Burrowing Owl and Edgar, which is a Barn Owl. We let the kids touch them and we talk about some stories of how they got here," Shaw explained.
According to Shaw, Burrowing Owls are an endangered species and the centre is home to a breeding program.
"Where we're trying to help raise their numbers back up. Basil, I believe he was brought into the centre in 2013 and he's used for educational purposes. Bringing awareness that these guys are an endangered species. They like to live in badger holes. Often, they will be hit by vehicles or just pesticides will get them because these guys like to eat grasshoppers. They are found in farmers' fields or whatever and of course they will use pesticides to control the grasshoppers and these guys will come around and eat them," said Shaw, as she held Basil for a few moments.
Alberta Birds of Prey Centre is also home to a pair of Great-Horned owls, brought into the centre because the two were found orphaned. The owls each have a broken wing from being hit by vehicles.
"Their mom never returned for them. Some people were watching the nest and they brought them in. We're hoping we're going to try and release them back in the fall," said Shaw.
Shaw noted the centre gets between 100-200 birds every summer and the centre's goal is to release as many as possible when it is believed the birds are ready to go back into the wild, usually in the fall.
According to Shaw, the centre doesn't receive any government subsidies and relies on donations and the admission fee into the centre.
"That's why we like many people to come in. We always say, tell your friends, because that's a way of helping with the centre and helping us release a lot of birds. We do have a rehabilitation centre in the back, where we have most of our other owls, hawks and eagles — where we try and help them get healthy again," she said.
One donation, from a local hatchery in Lethbridge, provides the centre with day-old male chicks.
"That saves us about $1,000 every day. We gladly accept donations because these guys go through a lot of food," said Shaw.
Another way the centre raises funds is through bird sponsorship, including the Great-Horned owls Missy and Echo and even Basil, the Burrowing Owl.
"Anybody can come in and sponsor a bird. It doesn't matter the amount they want to. We'll send them a little letter saying thank you and it's a good way for the kids to know they are helping out the birds here at the centre and it gladly, helps us," said Shaw.
As for the future of the centre, Shaw said, new pens are being built to allow for more birds to be brought in.
"Because quite a few of the birds have injuries. Usually broken wings from vehicle collisions," said Shaw.
She added birds typically come from around southern Alberta but some birds come in from all across Canada.