Coaldale's Communities In Bloom announce the return of the Yard of the Week
Posted on June 30, 2015 by Sunny South News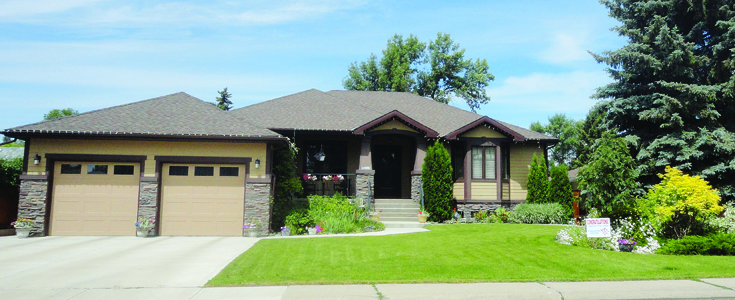 By Stan Ashbee
Sunny South News
This summer in Coaldale, Communities In Bloom (CIB) will be selecting one yard each week, which will be featured in the Sunny South News.
"We are getting ready for Canada's 150th and trying to beautify our town," noted Chair Doreen Lloyd of Coaldale's CIB in an e-mail, adding the community beautification group will also be hosting a garden tour July 18 and other projects include Adopt A Space and Lloyd said look out for the CIB's float in the upcoming Candy Parade Saturday.
According to Lloyd, the Coaldale CIB won a provincial title in 2006 and again in 2011. The group tends to keep active all year but recently kicked off the summer season.
This week's Yard of the Week winner is Tim and Doris Janzen located at 1508 22 Ave in Coaldale.
Lloyd said one of the main objectives of the Coaldale CIB is to allow residents to show how proud they are of their town.
"We really are encouraging people to clean up their weeds and make their yards all look nice because we want to get ready for 2017," she explained.
Lloyd said the local CIB hopes to enter competitions and perhaps win another award in the future.
As for this year's garden tour, Lloyd added the local CIB will pick out some outstanding yards to feature and the tour will end up in one of the featured yards for a cup of tea.
For more information or to let the CIB know about an exquisite Town of Coaldale yard call Lloyd at 403-315-3636 or e-mail doreen@doreenlloyd.com.
So far, the CIB has done a little upkeep to the town's planters in front of businesses and years ago took care of watering planters located in downtown Coaldale. "Now the town has taken over that."
"The town has also taken over the 'Welcome to Coaldale sign,' which we did," she added.