Settler Days more than just bags of candy – but according to kids, it's a sweet deal
Posted on June 30, 2015 by Sunny South News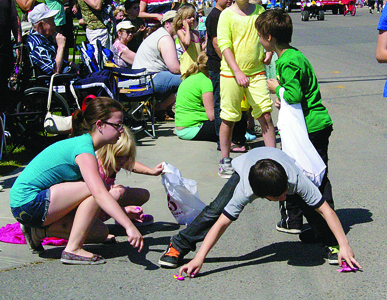 By Stan Ashbee
Sunny South News
Kids of all ages — get out your plastic bags, garbage bags or any other way to take home an abundance of candy after this year's annual Coaldale Candy Parade this Saturday at 11 a.m., which coincides with Coaldale's Settler Days celebrations taking place July 3-5. The parade starts at Jennie Emery Elementary School. It has been reported, 3,000 pounds of candy will be handed out during the parade.
Some of the highlights of this year's annual spectacular family event includes a craft and trade show at the Coaldale Arena, a cribbage tournament from 7:30-9:30 p.m. Friday night at the Community Centre, a pancake breakfast Saturday morning at 7 a.m. at the Community Centre, a book sale at the Coaldale Public Library after the parade, Kid Zone from 1-4 p.m., and a celebration of the arts at the community centre from 10 a.m. until 4 p.m.
Brenda Isaak-Takao, acting-chair of the Town of Coaldale Arts and Culture Committee of the Gem of the West Museum, said the sub-committee is putting on an Arts Festival in conjunction with Settler Days this year.
"One of the ladies suggested it would be really nice to do something more for the adults. Maybe this being our first year, we haven't got a lot of response yet from some of the artists. Performing arts — we don't have a lot. We've only got maybe two buskers. We've got some young men playing accordion for the pancake breakfast for part of the time and hopefully a vocalist — our own Alysha Smith from the town," said the chair, adding Smith is the town's arts and culture co-ordinator and if she can find accompaniment, she will possibly be performing at the Community Centre, as well as one of the buskers.
Literary arts will also be featured to coincide with the library's book sale.
"We should get some good traffic there," she said, adding some local writers will be included in the mix with some spoken word and readings thrown in.
The Community Centre will also host the visual arts component of the Arts Festival, which will include sculpture art from Isaak-Takao.
"There will also be various other artists there with their own original art."
Coaldale Mayor Kim Craig said Settler Days affords residents an opportunity to come together as a community and celebrate.
"It is also a homecoming weekend for friends and families — a chance to come back home for a visit," said Craig.
Craig added the town appreciates the volunteers, businesses, community organizations and groups participating in the parade and who help host the events that have become Settler Days traditions.
"Come out and enjoy all Coaldale has to offer during our community celebration, regardless of whether you call Coaldale home or just wish you did," added Craig.
In the fall, Isaak-Takao said, the sub-committee will be hosting the Gem of the West Art Show and Sale.
For more information about the Arts Festival during Settler Days or if you are a performer or artist and would like to perform or showcase your work contact 403-332-1740 or e-mail lilbitblue.design@gmail.com.