Demolition Derby Dust-Up returns to Exhibition Park Aug. 8
Posted on August 4, 2015 by Sunny South News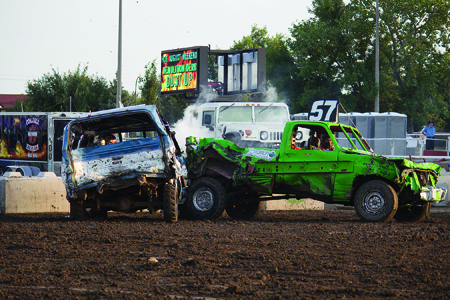 By Stan Ashbee
Sunny South News
On Aug. 8, extreme demolition derby action returns to southern Alberta in Lethbridge with Exhibition Park's Hot August Weekend Demolition Derby Dust-Up. Gates open at the Grandstand at 4 p.m. Derby starts at 5 p.m.
Coaldale Kinsmen Club member Jack Van Rijn noted the event is put on by Exhibition Park but the Coaldale Kinsmen are involved with the demolition derby portion of the weekend of activities.
"We had a three-year commitment with Exhibition Park and this is our last year of the three years," said Van Rijn, adding the club takes care of everything in-field including the cars and trucks.
According to Van Rijn, there will be three classes including a full-size car class, a mini-car class and a truck class.
"We introduced the truck class in Coaldale this spring and it's quite popular," he said. Van Rijn is one of the main organizers of the Carnage in Coaldale annual event.
At the Dust-Up last year, Van Rijn noted, there were a few select truck drivers to give southern Alberta demo derby enthusiasts a taste of it.
"Now, that we opened it up to anybody in Coaldale this spring, we're going to do the same thing in Lethbridge. It's going to be an open truck class."
Proceeds from the Dust-Up will remain with the Coaldale Kinsmen Club and the money will be used for community-minded projects within the town, Van Rijn said.
Van Rijn said a raffle car will once again be raffled off by the Coaldale Kinsmen and the winner will get a chance to drive in the main event.
Parents from the Friends of Jennie Emery Elementary Society will also be on hand to sell tickets on the raffle car, with proceeds to go towards the Jennie Emery Elementary School and community playground in Coaldale.
Last year, the Dust-Up raised $14,000 and there were 22 participants in the demolition derby. At this year's Carnage in Coaldale there were 51 participants.
This year, Van Rijn said, the hope is to have between 20-25 participants registered for the Dust-Up.
Online full-size, mini-car and truck classes can be registered online at exhibitionpark.ca or by calling Van Rijn at 403-345-5820.
Save $5 on advance tickets — only $10. Tickets at select locations in Lethbridge. At the gate tickets are $15. Under 10 — free.