On the Green road
Posted on August 11, 2015 by Sunny South News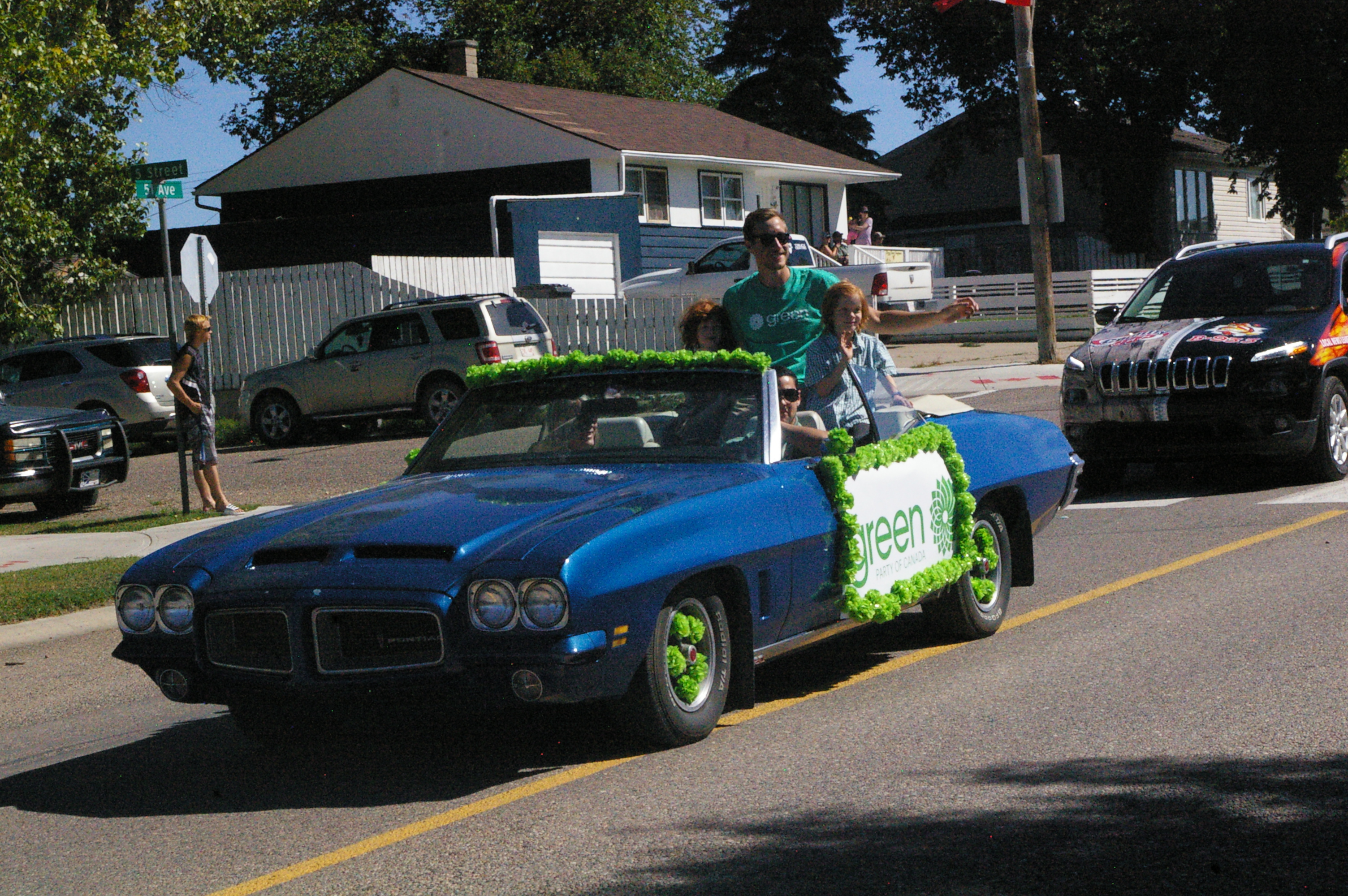 By Stan Ashbee
Sunny South News
It's not easy being green, unless you're Kas MacMillan. Of course, MacMillan is the Green Party of Canada's Member of Parliament candidate in the Lethbridge riding for the upcoming federal election in October.
MacMillan grew up in Coalhurst and was a student at both the elementary and high school. This election marks MacMillan's first foray into federal politics.
According to MacMillan, one of the reasons he chose to run as a Green Party of Canada candidate is because there isn't a party whip. In parliament, he explained, the NDPs, the Conservatives and the Liberals — their leadership can tell their MPs how to vote. "That's not really how it's supposed to work. Each MP is supposed to represent the district they're from and represent the people's wishes, not the party they represent. With the Green Party, we don't have a party whip," said MacMillan.
If MacMillan was elected, he said, he could go against party lines, if that was what his riding wanted.
"It's kind of like the best of both worlds when it comes to being an independent, as well as being in a party. I get all the freedom to represent the people in my riding like an independent does but at the same time I get all of the resources and support a party has," he said.
The Lethbridge riding, MacMillan added, is a bit smaller than it was during the last election. The new riding includes Coalhurst, Picture Butte, Nobleford, Coaldale, Barons, Iron Springs and the rest of Lethbridge County and area. "It is a bit smaller than the last election, which is nice, so it's not as much travel time."
Even though an election is many weeks away, MacMillan has hit the ground running with his campaign.
"Every night during the week I go door knocking, along with my team. Going around the county, the towns and the city — just trying to talk to as many people as possible. Because it's summer time, there are a lot of parades coming up I'm going in," said MacMillan.
MacMillan, after talking with some of the Lethbridge riding constituents, believes some of the main issues this election include the concern of empathetic voters. "People that are kind of done with politics because they don't believe a politician will do what they say anymore. They also don't trust them and I really don't blame them," he said.
Lethbridge, MacMillan added, has been a Conservative riding for many years and the Conservatives are whipped more than any other party, he said. "By electing someone from the major three parties — you're basically only electing someone to represent the party rather than themselves," said MacMillan.
With the current Lethbridge MP Jim Hillyer, MacMillan noted, Hillyer has a pretty good record of not being able to get a hold of.
"It's very hard to get in contact with him if you do have any issues and that's not at all what an MP is supposed to do. They're supposed to be the most approachable and they're supposed to fight for you in government, not the other way around, which is what has been happening lately," said MacMillan, adding he believes that is one of the issues in his riding. The economy, he said, is another issue facing Lethbridge riding constituents.
"Especially with oil being so low. People are starting to realize you can't just run on a pure oil-based economy. Especially when it's an export economy, where you don't even refine the products at home to maximize the profits. That makes it more susceptible to international influence," said MacMillan, adding if we are hooked onto the international economy rather than trying to keep everything local, the country is more susceptible to the ups and downs that occur."
One question for MacMillan is — with the recent regime change in Alberta from Conservative to NDP, Do you think Canada, as a whole, is ready for a change?
"Absolutely," he said.
"People are fed up. We definitely need a change, it's just a matter of what change that is going to be. It could just be as simple as a Conservative minority government. It could be an NDP or Liberal minority government. It's just going to be a matter of trying to get the message across what change will be the best change. I don't think anyone is expecting the Green Party to come into power anytime soon but I think people are starting to realize every Green MP in parliament does make a major difference," said MacMillan.