Command unit helps save lives
Posted on August 19, 2015 by Sunny South News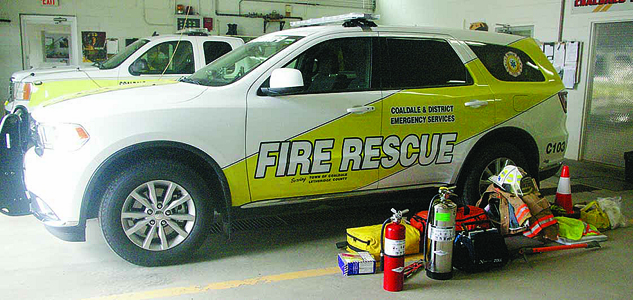 By Stan Ashbee
Sunny South News
Coaldale and District Emergency Services' new command vehicle is not flashy — it's a multi-purpose emergency/rescue unit equipped with the necessary materials to save lives and keep residents in Coaldale and in Lethbridge County out of harm's way.
"I wanted to go to an SUV last time when I bought a new truck but they weren't priced right. This time, I went and priced them out and they were the same price and I thought, with my pick-up truck I can only carry one passenger. We were moving firefighters around at a scene. We had a rollover at the Nolan Bridge with a truck and a trailer and we had people at the top of the hill, so we were shuttling people back and forth to exchange them and I took the guy and his wife that were in the vehicle, their phones wouldn't work, so I drove them up to the top of the hill, so they could phone family," said CDES Fire Chief Andy Van Rijn, adding this is the first time the fire department went with a body wrap.
"It's cheaper to put the body wrap on than to paint it and put the decal kit on. And then when it comes out of service, it costs $1,500 to paint it white again. This way we save a pile of money doing it this way. Somebody said something about the flames on the hood, well it's an ink jet paint on there, so you can put whatever you want on," he explained.
Recently, residents of Coaldale and abroad have sent in roasts to the Lethbridge Herald's Roasted and Toasted section, to roast the fire department and its new purchase.
The other issue is, Van Rijn noted, is last year 62 per cent of the department's calls were medical calls.
The new ride, a 2015 Durango, carries — a trauma kit, a defibrillator, fire extinguishers, spill kits, basic extrication equipment to get into houses, gas detection equipment, and carbon monoxide detectors. "Everything I need to be first on scene," he said.
"It sits in front of my house. I get a call and poof I'm gone and I'm the first guy there," added Van Rijn. The Durango was bought in May and was put into service at the end of June.
According to Van Rijn, the Durango has so far been cheaper on fuel than the previous Ford truck used as a command vehicle and is safer, which is good news for Coaldale and county residents.
The cost of the new command vehicle was split — 50 per cent from the county and 50 per cent from town residents.
So far, Van Rijn said, he loves the new command vehicle and at his first serious call he had the necessary equipment to mitigate a fatal accident. Van Rijn said he was able to neutralize spilled gas, had fire extinguishers in the vehicle, had traffic cones and had much-needed medical equipment to use until the ambulance arrived.
For the record, the fire chief's previous command unit is not out of service, as it moves down to the department's deputy chief and it is available if items need to be hauled.
The old unit is also in service for 10 years and then transfers into the town fleet. Van Rijn said it's a changing world and it was time for a change.
He added, next year the department will also be replacing two fire trucks. The new command unit, Van Rijn said, is basically his office.
"I'm on call seven days a week and 24 hours a day — this thing is my office on wheels. If I can't pick what I need to operate my business then I shouldn't be in there," he said.
Anytime anyone gets something new, Van Rijn said, it looks flashy to people and if anyone would like to ask him a question, he said, don't be afraid to contact him at CDES.
"After those couple of roasts in the paper (The Lethbridge Herald) I had more people stop by and say I love your truck and I trust you," said Van Rijn, adding he's sure there's people that appreciate it when he pulls up into their driveway at 2 a.m. for an emergency.
"About a month ago, we had a cardiac call to the Station Grounds and we got on scene and the guy arrested right in front of us and we were able to revive him," said Van Rijn, adding until the ambulance arrived.