Tale of the Whoppin' Watermelon
Posted on September 1, 2015 by Sunny South News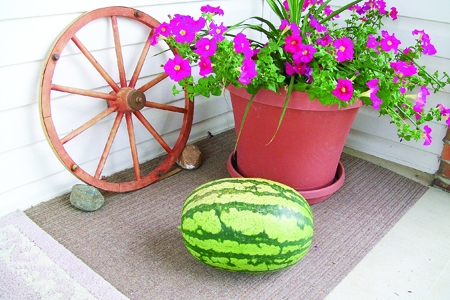 By Stan Ashbee
Sunny South News
There's always been the Halloween holiday-inspired "It's the Great Pumpkin Charlie Brown," which featured Linus waiting in a pumpkin patch for the supposed over-sized Great Pumpkin to appear in all its greatness.
But, have you heard about the Whoppin' Watermelon, grown in Coaldale in Glenda Goerzen's very own garden?
Weighing in at close to 26 pounds and measuring 20-inches long and 32.5-inches around — the watermelon is indeed a 'great' grow, especially within town limits.
"We were given the plant and there's a man that works at the Lethbridge Research Station, that develops these plants," said Goerzen, adding it's a watermelon on a pumpkin stock. The man from the research station is Dr. Henry Janzen and the watermelon type is the Vista Racer.
Goerzen noted it doesn't taste any different but it's so sweet. "It's just beautiful," she added. "It's really, really good."
Glenda and her husband, who Glenda said grew the watermelon, picked the succulent and delicious watermelon on Aug. 12 and as of last week, she still had a little bit left of the watermelon to eat.
"Actually, we're going to have some for lunch today (Aug. 25)," she said.
Other veggie bounty growing in the Goerzen's garden include onions, tomatoes, peas, potatoes, carrots and beets.
"Beets I finished up and I pickled some," she said. And, she added, a lot of cucumbers and beans.
Goerzen explained the couple was in competition with the father of the son that developed the watermelon/pumpkin stock.