Discovery Tuesdays after school program to begin Sept. 15 in Picture Butte
Posted on September 8, 2015 by Sunny South News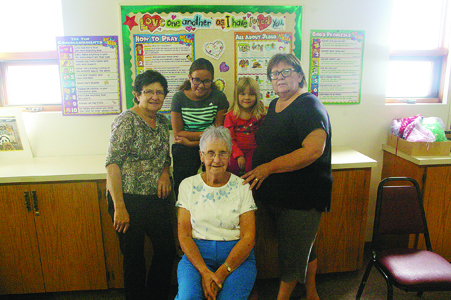 By Stan Ashbee
Sunny South News
After school in Picture Butte kids can take part in the Trinity United Church Discovery Tuesdays program starting Sept. 15 from 3:30-5 p.m. The Tuesday after school program follows the calendar school year and students from Preschool to Grade 6 can register. Registration is required. For more information call 403-915-1576. Crafts, games, singing, stories and snacks is what's in store for kids. The program is non-denominational but faith-based. The venue is located at 528 Maple Crescent in Picture Butte. The free program began last September.
"The changes we've seen in the kids have been amazing. Some of the kids weren't used to interacting that much. They didn't live in town or they weren't used to being around a lot of kids. There was some pushing and shoving and whatever and we just taught them how to be safe in their play and not to hurt one another," said Lynda Becklund, one of the program's volunteers. There are six volunteers this year and last year between 16-24 children were registered from Picture Butte and surrounding area.
Becklund noted the afternoon begins with the kids having a little bit of free play time. "After, they say the blessing and then they have their snack and then we have a little faith-based lesson just about loving one another and caring for one another and then we have a craft time and some other activity," added Becklund.
"We're very casual with them," added Florence Drake, another volunteer with the program.
Volunteer Jennie West said the students come from school and don't really need anymore structure at the end of the school day. "So, it's very relaxed," she said.
One of the reasons the program was initially started, according to Drake, was because many kids in the community seemed to be missing out on Sunday School, since Sundays are often busy with sports activities for families. "I wanted my own grandchild to have some bible study," Drake said.
"It replaces the Sunday School time," added West.
And, according to Drake, the after school program is a great outreach for parents. "I think it's really good for the town," said Florence.
"Something different, where kids can come and be themselves and learn a little bit."
Discoveries in the past included picking rocks and painting them and exploring the biblical tale of Noah's Ark.
"They love the animals and we had something about that," said Drake.
The program, Drake added, is fun and the kids seem to really like it.
West noted the United Church received a grant for the program but the program exists because of volunteers. West also pointed out church members also try to help out in the food department for snacks.